October 06, 2012 -
Matt Bowen
Playbook: How do you stop RGIII in the red zone?
Click here for the entire Inside the Playbook series.
Click here for the previous "All-22" breakdown: Falcons' Double Smash-Post
Redskins' QB Robert Griffin III is a weapon inside of the 20-yard line because of the creative ability he brings to the offense. Think of the Zone Read, QB Lead Draw, Speed Option, Pistol formation, etc. Tough to prep for from a defensive perspective.
Let's go to the "All-22" film, breakdown the rookie QB's TD run vs. the Bucs and discuss some coaching points.
Redskins vs. Bucs
Personnel: Posse (3WR-1TE-1RB)
Formation: Orange Exchange (2x2 Spread)
Offensive Concept: QB Lead Draw
Defensive Scheme: Cover 2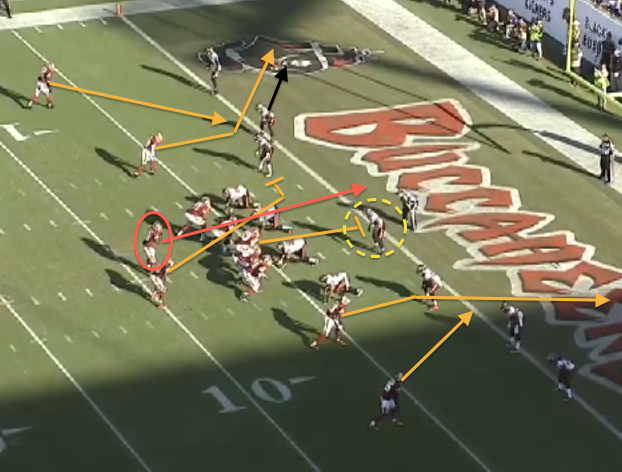 - Start with the pre-snap alignment of the Redskins. When you come out of the huddle as a defensive player vs. Griffin, there has to be an automatic alert to play for the QB Draw when you see a 2x2 set with the TE removed from the core of the formation.
- Look at what the Redskins do here with the slot receivers. Vertical release, stem to the 7 (corner). Working vs. Cover 2, the vertical releases will hold the deep half safeties and the two "seam-hook" defenders.
- Only a 5-Man box for the Bucs. Four defensive linemen in an "Over" front and the Mike Backer. This sets up perfectly for the 'Skins to run the Lead Draw with the center working up to the second level to shield the Mike.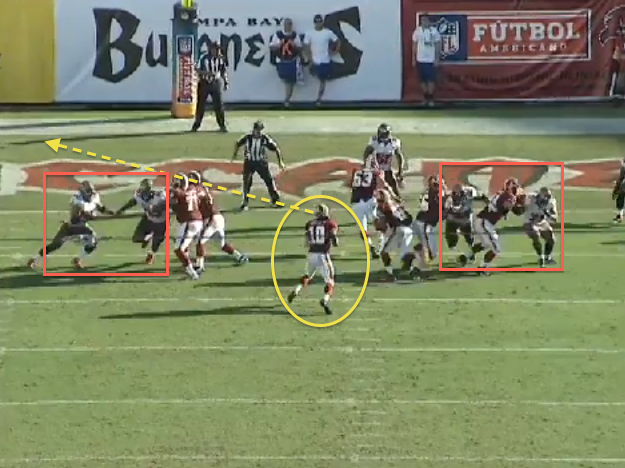 - I want you to focus on Griffin. Look at his eye placement after the snap. This might not seem like much, but it is enough to keep the DBs to the open side of the formation at their pre-snap depth.
- Check out the running lane for RGIII. The Bucs are using a "TEX" stunt (Tackle and End twist) on the open side of the D-Line and are really wide in their rush lanes to the closed side of the formation.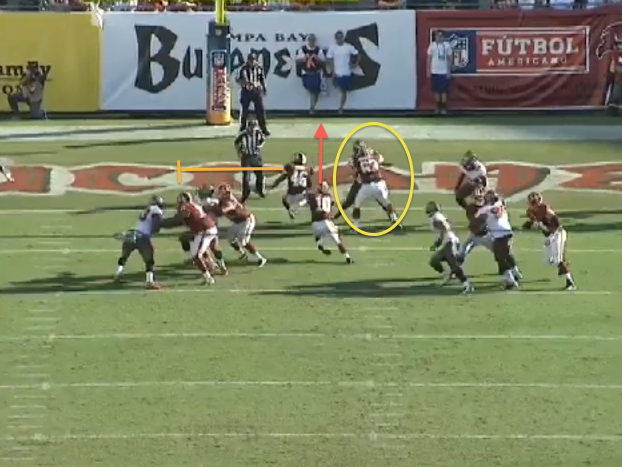 - With the center erasing the Mike Backer and RB Alfred Morris leading up through the hole (sealing to the open side second level), Griffin can almost walk into the end zone. Too easy.
- I have no problem with the Bucs playing Cover 2 here because it allows the back seven to see the QB (Cover 1, Cover 0 could be trouble vs. RGIII). However, when the 'Skins come out in a spread set, the inside defenders need to tighten their alignment to the core of the formation and alert for the Lead Draw with Griffin at QB.
Follow me on Twitter: @MattBowen41