October 03, 2012 -
Matt Bowen
Playbook: Kaepernick, 49ers' 'QB Power Sweep' vs. Jets
Click here for the entire Inside the Playbook series.
Click here for the previous "All-22" film breakdown.
During the 49ers' 34-0 win over the Jets in New York this past Sunday, head coach Jim Harbaugh inserted QB Colin Kaepernick into the game in a red zone situation. With "Tank" personnel on the field, the Niners create a bunch alignment and run the "QB Power Sweep" (crack toss blocking) to get the ball in the end zone.
Let's check out the "All-22" film and breakdown Kaepernick's TD run.
49ers vs. Jets
Personnel: Tank (1WR-2TE-2RB)
Alignment: Bunch Gun Strong
Scheme: QB Power Sweep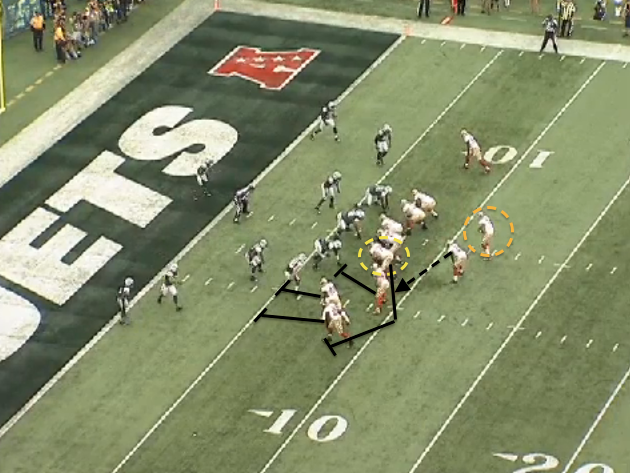 - Look at what Harbaugh and the 49ers do in this situation. Bring Tank personnel on the field and align in a Double-Stack formation with the backup QB in the gun. Use pre-snap "divide' motion (motion across the formation) and create a bunch set to the closed side (3x1 alignment with Randy Moss as the backside X receiver). Remember, personnel does not impact alignments. You can run a spread set with your "big people" in the huddle.
- I'm calling this a "QB Power Sweep," because San Francisco is using a "crack toss" blocking scheme. Block down to the closed side of the formation and pull the tackle with the offset RB leading to the edge.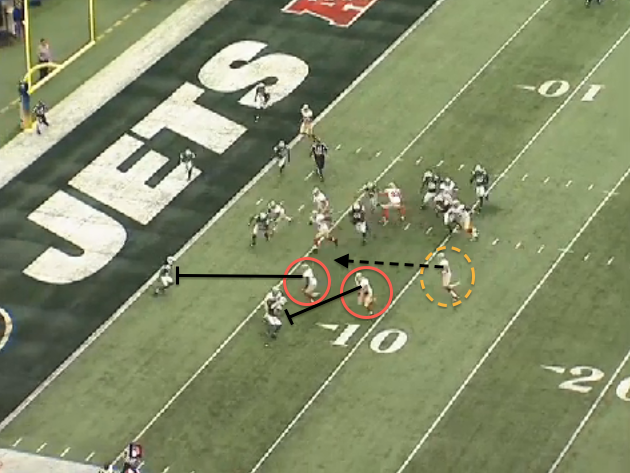 - The 49ers have this play set up with RB Frank Gore and the closed side offensive tackle leading up through the hole to the second level of the defense.
- Ask any DB and they will tell you it is tough to fit the run on a "crack toss" situation. Instead or reading a down block and filling the hole vs. a "Power O" or "Counter OF," gaps move in this situation. That forces secondary run defenders to hesitate and also duck behind blocks—creating open running lanes.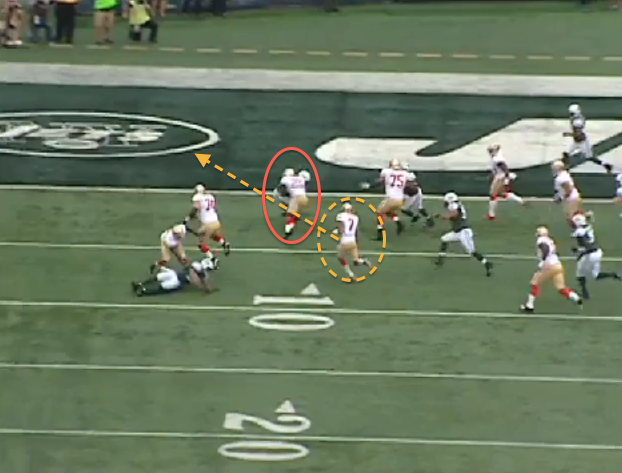 - A better view here from the end zone camera. With Gore working up through the hole, Kaepernick finds a clear running lane that leads to six points. And when you run the ball with the QB, the offense picks up an extra blocker in the scheme. Smart call here from Harbaugh and an excellent use of personnel.
Follow me on Twitter: @MattBowen41