August 31, 2012 -
Matt Bowen
Playbook: Looking at the 'Cross Country Dagger'
Click here for the entire Inside the Playbook series.
Click here for my breakdown of the NFL route tree.
Earlier this week, I broke down the Cowboys' "Yankee" route on video. A 2-Man concept (with max-protection) designed to put stress on the FS in the middle of the field (think Cover 1, Cover 3, Zone Pressure).
Today, let's take a look at another Dallas route scheme: the "Cross Country Dagger." Check out the playbook diagram and then we will get into some coaching points…
Offensive Personnel: Regular (2WR-1TE-2RB)
Formation: Weak I Slot "Exchange"
Route: Cross Country Dagger
Defensive Scheme: Cover 2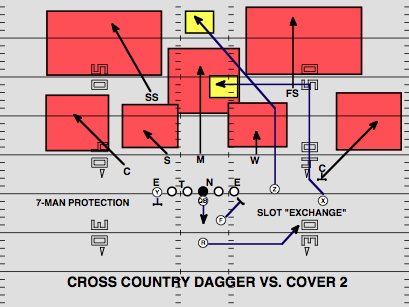 - Why 7-Man protection? Think deep, vertical concepts here. With the TE (Y) staying in and the FB sealing the edge to the open side of the formation, the QB has time for the route to develop down the field. The RB (R) on the swing route plays out as a "check down" option.
- A quick coaching point on alignments: look at the "Z" receiver. This is called a "Slot Exchange" formation (No.2 on the ball). That is a pre-snap defensive alert for the "Dagger" concept (Z clear out, X on the dig).
- The base principles of the "Dagger" vs. Cover 2 are to push the Mike Backer (M) vertically down the field and work the dig route back between the numbers in the now vacated zone. If the two underneath "seam-hook" defenders (Sam and Will in a base 4-3 front) don't get enough depth, the dig becomes an easy read for the QB.
- With the Z running the post ("Cross Country") the offense is trying to put stress on the closed side safety (SS) in Cover 2. Here I have the TE staying in on protection, however you can run a closed side 7 (corner) route and force the SS to play two (Y and Z) in the deep half.
Have a scheme, coverage or concept you want to see broken down? Leave a comment or send me an email: matthew.bowen@nationalfootballpost.com
Follow me on Twitter: @MattBowen41</a>