September 20, 2012 -
Matt Bowen
Playbook: Manning beats the Panthers in the red zone
Click here for the entire Inside the Playbook series.
Let's go back to the Giants 36-7 win over the Panthers tonight and breakdown some red zone football up on the chalkboard. With the Panthers playing Cover 1 (man-free), QB Eli Manning targeted TE Martellus Bennett on the inside vertical seam for a 15-yard TD. Check out the playbook diagrams and then we will get into some coaching pints.
Giants vs. Panthers
Personnel: Posse (3WR-1TE-1RB)
Alignment: Doubles
Route Concept: Seam/Levels
Defensive Scheme: Cover 1 "Rover"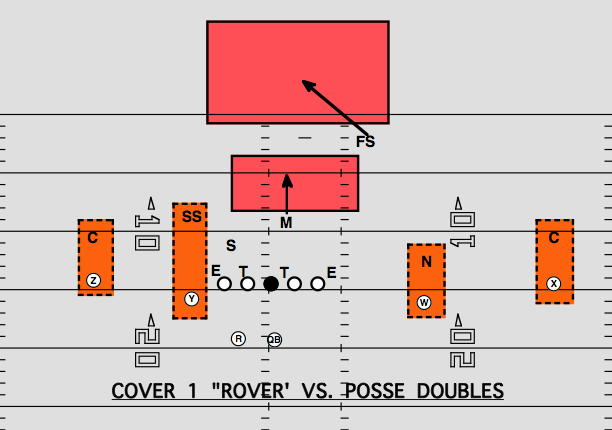 - Let's start with the Panthers' defense vs. the pre-snap alignment of the Giants. Cover 1 "Rover" (Mike Backer plays the underneath hole drop) is a smart call given the down and distance situation (3rd and 3). Two middle of the field defenders (FS and Mike) to limit inside breaking routes.
- The FS will show to the open side of the formation and roll to the deep middle third at the snap with the DBs in coverage (highlighted in orange) coached to play with an outside shade and "funnel" receivers to their help.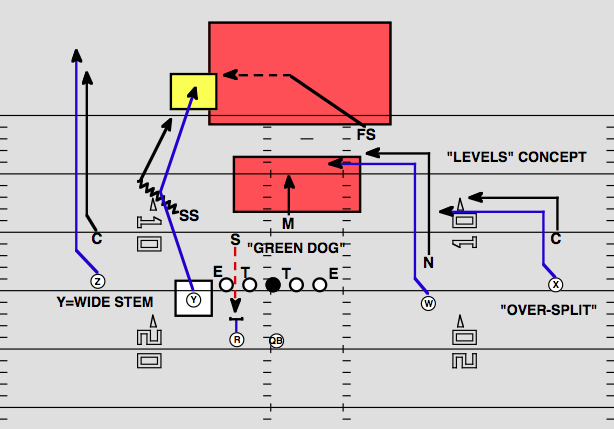 - Look at the slot set from the Giants to the open side of the formation. Automatic alert to the "Levels" concept with the "X" receiver in an "over-split" alignment (plus-three outside of the numbers). The "W" (Victor Cruz) will work the intermediate dig with the X on the inside smash. The same concept you will see from Peyton Manning and the Broncos.
-Let's go to the closed side of the formation. The "Z" receiver is running a clear out 9 (fade) route with Bennett on the seam. A tough route to play for SS Charles Godfrey because of the initial stem. Bennett will stem his route outside to widen Godfrey and force the SS to open his hips. This creates separation and allows the TE to bend his route back to the middle of the field. And the Panthers' safety now has to play the seam from a trail position because of poor technique.
- Where is the FS? Inside of the red zone, the FS is limited in his angles. Throw an outside breaking route (think 7 cut) and you won't get any help from your middle of the field defender because of the ground he has to make up. However, on any inside breaking concept (Post, Seam, Dig), the FS has to impact the route. Shorten your depth, read the QB and break on the throw. There is no question Godfrey is beat in this situation, but the Panthers have to get more from the FS on the seam route.
Follow me on Twitter: @MattBowen41