September 18, 2012 -
Matt Bowen
Playbook: Panthers' 'Triple-Option' vs. Saints
Click here for my entire Inside the Playbook series.
Click here for my breakdown of the Panthers' "Counter Option."
Let's go back to Sunday, get up on the chalkboard and talk some "option" football. A breakdown of Cam Newton and the Panthers running the "triple option" vs. the Saints' 8-Man front. Check out the playbook diagram and then we will get into some coaching points on the QB's 40-yard run.
Saints vs. Panthers
Personnel: Regular (2WR-1TE-2RB)
Scheme: Triple Option
Defensive Scheme: Cover 1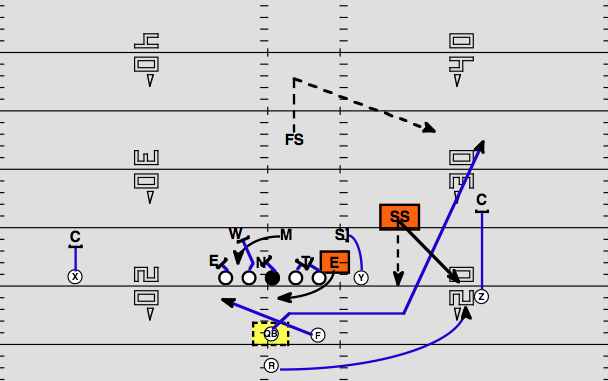 - The Panthers are showing a "pistol" look with Cam Newton in the gun and RB DeAngelo Williams (R) in the dot position. Up front, Carolina has the TE (Y) in a "flex" alignment--removed from the core of the formation.
- The Saints are playing base Cover 1 (man-free) out of an "Over" front. With Malcolm Jenkins (SS) walked down the closed (strong) side of the formation, this is an 8-Man box to defend the run game.
- First read for Newton: the closed side DE. The Panthers QB will ride the FB (F) through the mesh point and read the angle of Cam Jordan. If the DE comes up the field, Newton will give the ball to the FB. Here, Jordan crashes down the line of scrimmage to the F allowing Newton to keep and work to his second read in the scheme.
- Second read for Newton: the SS. No different than running the split-back "veer" on Friday nights in high school ball. Both Newton and Williams will "option" Jenkins. The key is to keep a good pitch relationship between QB and RB—forcing Jenkins to declare on his angle. The Saints' SS can "slow play" Newton, but he eventually drives to Williams. And with the Mike (M) attacking to the open (weak) side of the formation and the TE (Y) using an "arc" release to the seal off the Sam Backer (S), Newton is out the gate.
- I am a big fan of running the option. Always have been. And although it isn't a scheme you can lean on in the NFL like we see in the college game, the execution (and reads) are the same.
Follow me on Twitter: @MattBowen41