August 27, 2012 -
Matt Bowen
Playbook: Peyton Manning in the red zone
Click here for the entire Inside the Playbook series.
Click here for my breakdown of the NFL route tree.
Over the weekend I broke down the Ravens play action scheme (Skinny Post) vs. Cover 2 in the red zone. Force the Mike backer to step to the line of scrimmage and target the middle of the field.
Today, let's take a look at the Broncos from Sunday and talk about Peyton Manning's TD pass to Eric Decker vs. the 49ers' Cover 1 (man-free) defense. Check out Denver from their pre-snap alignment and then we will discuss some coaching points.
49ers vs. Broncos
Personnel: Posse (3WR-1TE-1RB)
Formation: Doubles Slot Open
Route: Double Smash-7
Defensive Scheme: Cover 1 (man-free)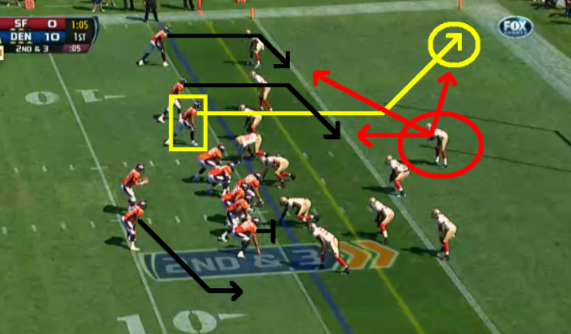 - You will see the "Double-Smash 7" from multiple personnel groupings and formations. Think of the Patriots' playbook here with TE Rob Gronkowski on the 7 cut (corner) route and WR Wes Welker on the underneath "Smash" route. A top concept in every NFL playbook inside of the 20-yard line.
- Manning and the Broncos have three WRs to the open side of the formation. Run No.1 and No.2 on the underneath "Smash" concepts with Eric Decker (No.3) pushing vertically up the field and working to the corner of the end zone.
- The Niners are playing this correctly from their pre-snap alignment in Cover 1. Anytime you have man-free (or Cover 0) called in the huddle, you want to see your DBs align at different levels to avoid "pick" situations.
- I have the FS highlighted in red (along with his angles to the ball). Playing Cover 1 inside of the 10-yard line, the single-high safety is coached to shorten his depth and use a "flat-foot" read (no backpedal) at the snap of the ball. Read the QB and drive on any inside breaking route. The issue here? The FS isn't going to help on the 7 route. Too much ground to make up on an outside breaking cut to the corner of the end zone.
- No.1 rule on playing press down near the goal line: you can't give up leverage. The 49ers' CB is aligned with an outside shade (proper leverage in Cover 1), but he gets beat at the line and allows Decker to stack on top. And Manning isn't goig to miss on this throw.
Follow me on Twitter: @MattBowen41