August 25, 2012 -
Matt Bowen
Playbook: Ravens' red zone play action
Click here for the entire Inside the Playbook series.
How do you beat Cover 2 in the red zone? Target the Mike Backer with speed or use play action to create a throwing lane between the numbers. Today, let's go back to Thursday night in the Jags-Ravens matchup and focus on a Baltimore play action scheme that led to a TD.
Jags vs. Ravens
Offensive Personnel: Posse (3WR-1TE-1RB)
Formation: Doubles Wing
Route: Seam/Skinny Post
Defensive Scheme: Nickel Cover 2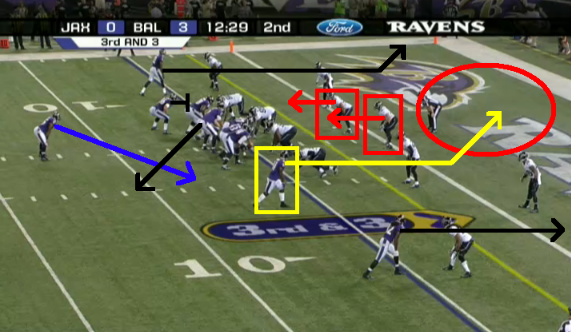 - Start with the run action to the open (weak) side of the formation. In a 3rd and 3 situation, the Ravens want to force the Mike (inside vertical seam drop) and the Sam (seam-hook drop) to step to the line of scrimmage and attack the run front. That opens up a clear throwing lane for QB Joe Flacco to target the middle of the field.
- Anquan Boldin's route is nothing more than a seam/skinny post concept. You will see this out of Ace (2WR-2TE-1RB) and Regular (2WR-1TE-2RB) from the TE position and the slot with three WRs on the field. Boldin (highlighted in yellow) will take an inside stem and work to the second level of the defense between the numbers. The Colts used to run this with Peyton Manning consistently off of play action.
- Safety help? That's the question I always get asked about any inside vertical concept vs. 2-deep. Out in the field, both safeties will "overlap" any throw to the middle to cushion the Mike Backer. However, down in the red zone, this is on the Mike to match to No.2 (Boldin). Add in two vertical concepts outside of the numbers to hold the safeties, and this essentially turns into a one-on-one matchup with the Mike and the WR.
- How do you stop it? Technique and eyes. The Mike has to read High Hat (Pass) vs. Low Hat (Run) at the line, open his hips to the two WR side and carry the seam. But when you stick your eyes in the backfield, there isn't enough time to recover and drive to the route inside of the 20-yard line.
Follow me on Twitter: @MattBowen41