August 29, 2012 -
Matt Bowen
Playbook: RGIII vs. Nickel 'Cover 0' pressure
Click here for the entire Inside the Playbook series.
Click here for my breakdown of the NFL route tree.
Throughout the preseason schedule, the Redskins have been basic in their approach to game planning for rookie QB Robert Griffin III. However, this past weekend we saw the 'Skins move RGIII outside of the pocket (sprint action) to target WR Santana Moss in the red zone vs. Cover 0 (blitz-man) pressure.
Let's take a look at Griffin's TD pass vs. the Colts and break down some coaching points...
Colts vs. Redskins
Personnel: Posse (3WR-1TE-1RB)
Formation: Doubles Wing
Route: (Sprint) Curl-Flat
Defensive Scheme: Nickel Cover 0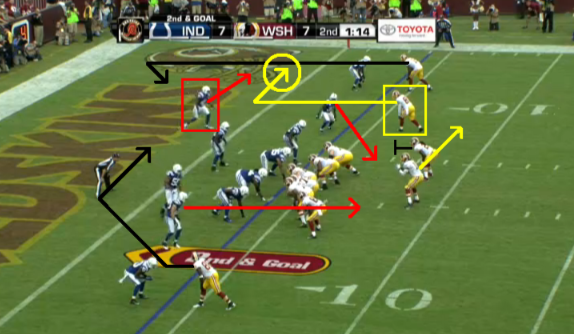 - Two route combinations you will get down inside of the 10-yard line with sprint action: Curl-Flat and Flat-7 (corner). Here, the Redskins have the ball on the far hash with Moss in a reduced split in order to create room for the Flat (out).
- In Cover 0, there is no safety help in the middle of the field. Play with inside leverage and drive to the upfield shoulder on any outside breaking cut. You are on your own in coverage to play with an inside shade and "flat foot" read from an off-man position.
- The Colts are rushing six (Nickel and FS pressure) with both LBs (Mike and Sam) using a "green dog" technique (blitz to coverage) to create an 8-Man pressure scheme vs. Griffin.
- Why are the Colts in trouble here? Look at the pre-snap alignment of the FS (highlighted in red). He will walk down over the slot WR (Moss) and replace the blitzing Nickel CB in coverage. However, in this situation (field position, ball on the far hash, reduced split), you can't hold the disguise. The ball comes out quickly in the red zone and you can't afford to give up a big "cushion" (distance between WR and DB). Shorten your initial depth and play for an outside breaking route.
- The offset RB (another pre-snap key to sprint action) will pick up the blitzing Nickel CB which allows RGIII to give ground, target Moss (highlighted in yellow) vs. a defender playing with inside leverage and finish the play. A smart scheme that caters to Griffin's skill set (and also gives him a run/pass option). Look for more of this when the regular season starts.
Again, we are talking about a QB that gives you multiple options as a play caller—and this is just one example.
Follow me on Twitter: @MattBowen41