August 03, 2012 -
Matt Bowen
Playbook: 'Vice' vs. Cover 2 in the red zone
Click here for the entire Inside the Playbook series.
Click here for my breakdown on the three toughest routes to defend.
The "Vice" formation. Think of a double-stack alignment in the red zone with a route concept designed to exploit Cover 2 (or Tampa 2) by putting stress on the Mike Backer and the FS to the open (weak) side of the formation. A route scheme I have seen multiple times at Bears camp with the idea of targeting WR Brandon Marshall on the "Dino" stem (Post-Corner).
Let's take a look at the route up on the chalkboard and talk some quick coaching points.
Offensive Personnel: Posse (3WR-1TE-1RB)
Formation: Vice
Route: Dino/Flat-7
Defensive Scheme: Nickel "Red" 2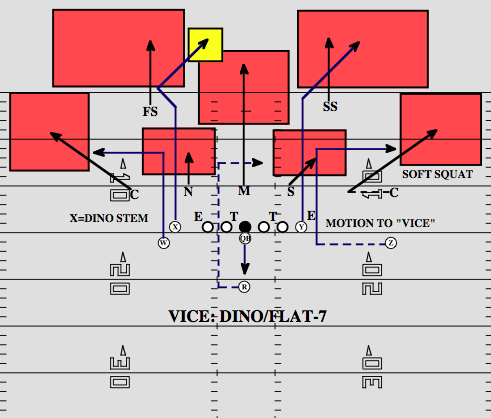 - Start with the defensive coverage. Inside of the red zone, Cover 2 will play as "Red 2." Both CBs will use a "soft squat" technique (no jam, sink at the snap) to protect the deep half safety on the 7 cut (corner route). With the Mike running the inside vertical seam, you essentially have a "five-across" look at the goal line. Take away the vertical concepts and force the ball to go underneath.
- I have the offense using Z motion to the closed (strong) side of the formation to create the "Vice" formation. From a defensive perspective, think combination routes whenever there is a stack look (Hi-Lo, Option-7, Flat-7, Smash-Seam, etc.)
- As a safety, you should expect to see the Flat-7 combo vs. Cover 2. And that's exactly what the offense wants you to play for (or jump) to the open side of the formation with the X on the "Dino" stem. A vertical release, stem to the 7 and break back on the 8 (post).
- In Cover 2, you need help from the Mike Backer. The FS will drive the "Dino" (if he stays square and reads the QB), but the Mike needs to match to the X receiver. And if the underneath "seam-hook" defender (Nickel) doesn't get enough depth, the QB can fit this ball into a tight window between the FS and Mike. Tough route vs. 2-deep coverage.
- This isn't a new concept the Bears developed this week at camp. I saw it often during my career vs. Jon Gruden's Bucs (Tank and Ace personnel). The key to defending it? Remind your safeties that they have help on the 7 (CB sink) and coach up your Mike Backer to open his hips to the passing strength and get depth at the snap. This ball has to go to the flat.
Follow me on Twitter: @MattBowen41