August 29, 2010 -
Matt Bowen
Post game notes: Cards-Bears
Let's take a look at some notes from last night's Cardinals-Bears game at Soldier Field…
Derek Anderson: The Cards' QB had good numbers last night: 7-12 for 94-yards and a TD. Any time we analyze Anderson it is hard not to notice that he isn't smooth as a passer. His throws can be high, behind the receiver and short. But last night, his WRs made some plays for him—and you need that to have success as a QB in this league. However, what impressed me was the way Anderson stood in the pocket and delivered the ball vs. the Bears' zone pressure. He threw the deep dig, the slant, etc. and took some hits.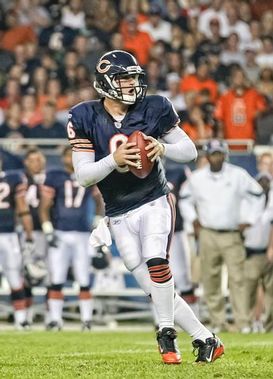 ICONCutler threw two INTs on Saturday night.
Cutler struggles: The Bears' QB looked shaky in the pocket and when he did have time to throw the ball he made poor decisions--with two resulting in INTs. The first came on a late throw to WR Johnny Knox on the comeback vs. Cover 1. The second when Cutler tried to force the ball to WR Devin Aromashodu when the Cards were playing Cover 2. If the Bears' QB sees the CB sinking and the safety on the numbers, he has no reason to try and throw the "9" (fade) route. Take what the defense gives you and check it down. Best way to put it: this entire offense looks uncomfortable. No doubt they have talent at the skill positions, but the entire unit looks out of sync right now. Hard to judge what this offense can do in August because of the constant mistakes.
Cardinals' RB: Tim Hightower is the No.1 back in Arizona. He gets downhill fast and runs with his pads square to the line of scrimmage. Add in the fact that he can break tackles and make defenders miss in open space, and there is no reason he shouldn't be in the backfield when the Cardinals need a play over Beanie Wells--who put the ball on the ground again.
Chicago's two TE look: When the Bears get into their Ace or 212 personnel (2 WR, 1 RB, 2 TE) they can get creative and run a variety of schemes. Greg Olsen can become the "move TE," and just like we see with Peyton Manning and the Colts, can align removed from the formation to give the Bears a three WR look. Add in the entire playbook of one-back runs and movement passes (boot, play action, etc.) with Matt Forte/ Chester Taylor, and Chicago has options when they send this personnel grouping out onto the field. I would expect to see plenty of this come September.
Stephen Williams: The Cardinals' undrafted rookie WR from Toledo can play—really play. To see a undrafted guy run routes, get in and out of his breaks and create separation in the intermediate passing tree against veteran CBs is something to talk about. He showed up on Monday night against the Titans and was a factor again last night, catching five balls for 79-yards and a TD. Some speed there that is now on tape.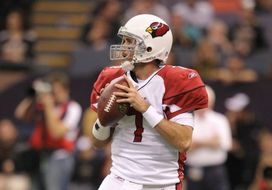 ICONArizona's Matt Leinart.
Leinart's night: Leinart showed that he can hit the underneath crossers, the short to intermediate curl routes and the check down. But, is that anything that is going to make coaches think twice when they turn on the film? Did throw a TD to Steve Breaston on an underneath crosser when the Bears checked to Cover 2 in the red zone, but with Anderson playing well, it is hard to judge if Leinart's production is enough for head coach Ken Whisenhunt. A much better night than we saw on Monday against Tennessee.
Lovie's defensive scheme: We talked about the Bears bringing some pressure already, and we did get to see a nice mix of both zone and man blitz schemes. But, on third downs, Chicago still wants to be a Tampa 2 team under Lovie Smith. Force the offense to get into third and medium to third and long situations and rush four—while dropping seven into coverage. Have to tackle if you are going to allow receivers to catch the ball underneath.
Quick hits…
-WR Johnny Knox looks like the No.1 in Chicago. He has the ability to push the CB up the field and break his routes with tight, precise cuts at top speed. He has had a great camp and should excel in Mike Martz's offensive scheme.
- You have to like the Arizona front four on defense. They get a good push, can get off of blocks in the run game and use multiple stunts to get to the QB in passing situations.
- Do the Bears still have an issue at the safety position? Plenty of injuries right now and SS Chris Harris didn't do anything to make me think that this situation is under control.
- Talked about "exotic" plays yesterday to get on tape. The Bears lined up in the wildcat and both offenses put a WR reverse into the game plan. Why? To get opposing defenses to waste practice time in September.
Check back to the NFP tomorrow for my game notes from tonight's Steelers-Broncos matchup in Denver.
Follow me on Twitter: MattBowen41
Click here to purchase the Total Access Pass/ Fantasy Draft Guide from the NFP.