August 23, 2010 -
Matt Bowen
Post game notes: Vikings-49ers
Let's run through some notes from Sunday night's Vikings-49ers preseason game. Plenty of starters sat for both teams, and we saw a generally sloppy game overall, but there is always something to take from a game in August. Coaches break down this film for a reason.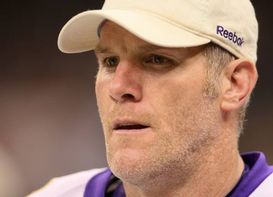 ICONFavre only saw four snaps in S.F.
Brett Favre's return: Not much to say—or to analyze—after just four snaps for the Vikings' QB. Two handoffs, a swing pass to RB Adrian Peterson out of the backfield and a sack from San Francisco MLB Patrick Willis that drove him to the ground. We should expect to see Favre get more snaps next week (and throw the ball down the field), but on Sunday night it was a straight cameo appearance. More of a formality than anything on national TV.
The Niners' game plan: What we saw last night was very similar to what we will see all season long from the 49ers as an offense. San Fran is big in the off-tackle running game (Power 0, Lead, Counter OF) and simple route combinations. They like to set up very manageable 3rd down situations and when they do get the QB in the gun, they run a variety of short to intermediate routes. Outside of the double dig route (15-yard square-in), we didn't see the deep ball until Nate Davis hit Teddy Ginn in the second half. But, when you have a 3rd and four or 3rd and three situation, it is a lot easier to run the "tare" route (5-yard out/flat combo) than to have to throw the ball down the field. Very efficient last night from the first team offense.
Anthony Dixon: The rookie RB looks like the ideal fit for the way San Francisco runs the ball in their two-back downhill power game. He has power in his legs, along with some cutback ability. And, as we saw on the goal line, he does have some edge speed. He took the pitch on the RB flip play and was able to turn the corner. Not a player who excels in the offensive sub packages running out of the gun, but I like what he offers for this Niners' offensive scheme.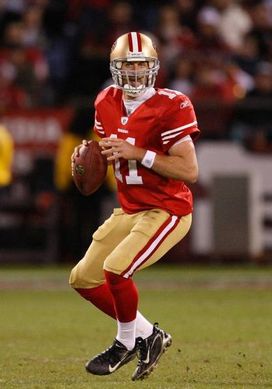 ICONSmith was efficient last night in the Niners' offensive scheme.
Alex Smith: Talking about the 49ers' QB, one thing to take from the game was his ability to step up into the pocket and keep his eyes up field. It is something that might look simple, but when the QB can step up and deliver the ball you usually see positive results. Smith took what the Vikings gave him on defense, and when he saw Cover 2 he hit the flat or threw the check down. And, when the Niners did align in their stack looks and 3x1 sets in their 311 personnel (3 WR, 1 RB, 1 TE), Smith stepped up into the pocket, threw a catchable ball, and moved the sticks. Only once did he throw an intermediate pass when he hit the TE on the dig-route in a 3rd and long situation to convert. Bottom line: was good enough to put points on the board without Michael Crabtree, Vernon Davis and Frank Gore on the field. That is what you want to see from your No.1 QB in the preseason.
Toby Gerhart: Mixed feeling on the rookie from Stanford. Obviously not enough time last night to judge him as a pro RB just yet, but the main question for me is simple: can he make anyone miss? I ask this because he runs upright and is a pure straight-line guy. Productive running backs at this level have to either have cut back ability or some type of lateral movement to get into the open field. Maybe he can produce between the tackles, but is that good enough for a team that is without Chester Taylor now?
Quick hits…
- Got to see 49ers' rookie safety Taylor Mays come off of the numbers in Cover 2 and make a hit on the "9" route (fade route). As he develops as a pro safety—and starts to understand pro offenses—he will get his hands on the ball in that situation.
- It always amazes me to see players come back from big injuries so quickly at this level. Last week we saw Patriots' WR Wes Welker back on the field after a major knee injury, and on Sunday it was Vikings' LB E.J. Henderson after a bad leg injury. Vets see limited time in August, but Henderson still made a play in the backfield in the run game. You have to like that as a fan of the game.
- Younger players should watch tape of Willis. He can blitz, get downhill quickly in the running game, shed blocks and pursue to the football. You want that from the MLB position.
- Plenty of flags—as we are accustomed to in August—but when you are a roster hopeful, the last thing you want to do is get called for a penalty. Easiest way to get cut in this league is sacrificing field position. First cuts are closer than you think.
Follow me on Twitter: MattBowen41
Click here to purchase the Total Access Pass/ Fantasy Draft Guide from the NFP.