July 24, 2011 -
Matt Bowen
Post lockout, Bears need to talk money with Forte
At the beginning of the 2010 season I wouldn't buy the argument that the Bears needed to start thinking about a new deal for Matt Forte.
But after offensive coordinator Mike Martz started rolling out balanced game plans during the second half of the year, there is no question from my perspective that Forte is a crucial player in this Chicago offense. However, he is underpaid. The RB is only scheduled to make $550,000 this season, according to Vaughn McClure of the Chicago Tribune.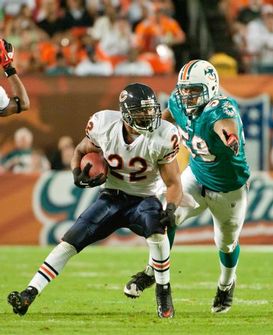 ICONForte's 2010 production should bring in new money from the Bears.
A "light" paycheck for the amount of work he does in this offense.
This is why the team and Forte will have to talk money during camp (or the regular season) that locks up the RB for the immediate future in a Bears uniform.
Think of it this way: when Martz does use the ground game this offense can cater to Forte's skill set.
Create a two-back look in the backfield (move the TE into the fullback role) and get downhill in the power running game (Power O, Lead Open, Lead Strong, Counter OF). Or stay with the one-back sets and use the stretch play, the edge runs that give Forte an opportunity to cut back vs. defensive pursuit.
Plus, don't forget what the Bears RB can do catching the ball out of the backfield. You can align him removed from the core of the formation or release him from the backfield in matchups he can exploit.
(Click here to see a breakdown of how Forte can be used in the receiving game).
He rushed for over 1,000 yards last season and tied for the team led with 51 receptions for 547-yards. That is solid production from the RB position.
And if the Bears are going to continue to approach game days with a call sheet that sets this offense up with scoring opportunities, Forte needs to be in their long-term plans.
As for a contract number? You can never over pay for RBs in the NFL—because they do wear down over time. Hits add up and those 3-yard gains are like car accidents in the hole. However, as the NFP's Brad Biggs pointed out earlier today, Forte has complied 4,731 yards from scrimmage in his short career.
Those are numbers that should be rewarded with new money in Chicago. With the lockout expected to be lifted soon, it is time for the Bears to start thinking about investing in Forte.
Follow me on Twitter: MattBowen41