August 20, 2010 -
Matt Bowen
Preseason weekend tip sheet
On Fridays throughout the regular season, I will post my weekly tip sheet: personnel, schemes, matchups and what to look for on Sundays. For today, we check out some of the preseason action over the weekend and review some of my game notes from last night's Pats-Falcons matchup in Atlanta.
<strong>Patriots-Falcons notes
Defending New England: QB Tom Brady and the Patriots are tough to prepare for from a defensive perspective because they constantly change personnel—which leads to multiple formations and alignments. And as we saw last night, they can run the ball out any personnel grouping they have on the field. They find what works and then use it to their advantage. Forces defenses to watch a lot of tape during game week.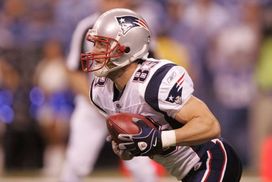 ICONWelker saw some action for the Pats.
Welker's return: Liked the idea of getting Welker on the field early—and getting him the football. We saw the WR run the option route, the skinny post and the bubble screen. Not enough to judge where a player's knee is at in August after ACL rehab, but this has value. Welker was able to stay within the flow of the New England offense running routes that we will see again in the regular season.
Atlanta's game plan: Tough to call this a "game plan" in August, but I was a big fan of the way the Falcons scripted their offense last night. Empty sets, one-back runs with "ghost motion" (WR motion into the backfield), aligning TE Tony Gonzalez outside of the core of the formation and the underneath combination routes. Some creativity there.
Quick Hits…
WR Randy Moss can still run past anyone on the field. Last night he split the CB and the S on a straight go route off of pre-snap motion. No double move, no stutter after 10-yards—just straight deep ball speed.
RB Michael Turner looks quicker getting downhill—noticeably quicker. I thought he hit the hole hard. Different than what we saw in '09.
TE Aaron Hernandez can be a player for the Pats. Would hate to be a LB or a SS that has to draw him in coverage when he aligns in the slot or as the "X" receiver backside. Going to have to put a nickel corner on him. Solid night for the rookie.
On to the weekend…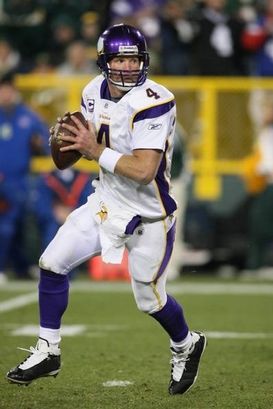 ICONFavre is expected to see some time on Sunday night.
Favre's return: Vikings' QB Brett Favre is expected to play Sunday night against the Niners. There will be plenty of hype on a national broadcast, but I don't think we will see that much. Look for a lot of handoffs in the run game and the 3-step passing game (slant, hitch, smash, quick fade). Not a lot of excitement—just like last August with Favre if he plays.
Giants' defense: Let's see if new defensive coordinator Perry Fewell becomes even more aggressive in his play calling against Pittsburgh. The Giants can rely on their front four on third downs to play Cover 2 and 2-Man (something we saw on Monday night), but there are still opportunities to bring pressure. Fewell can get conservative at times, however there is enough talent on that unit to continue to go after the QB in passing situations.
Clausen: Carolina plays Rex Ryan's Jets this weekend. What does that mean for rookie QB Jimmy Clausen? Simple: pressure and multiple looks. This will be a great test for the rook, as he will see overload pressure, Cover 0, various disguises, zone and man blitzes, etc. Perfect environment for a young QB to learn from.
More Cutler: Chicago QB Jay Cutler only saw one series last weekend after new OC Mike Martz pulled him due to the amount of pressure the Chargers' were sending, but these next two games will be big for this offense. This scheme is very complex and the more game-like situations Cutler sees, the more prepared he will be for the regular season. The Bears' QB needs to throw the deep 15-yard dig, the 7-route, and the skinny post in Martz's system.
The Saints' D: New Orleans' first team defenses gave up two scoring drives vs. Brady and the Pats last week and that isn't going to fly with coordinator Gregg Williams. I have been in the meeting room with Williams after a poor game and he has no problem calling out his players. The defense started off the week with "up-downs" in practice, and I would expect them to tackle better and play hard.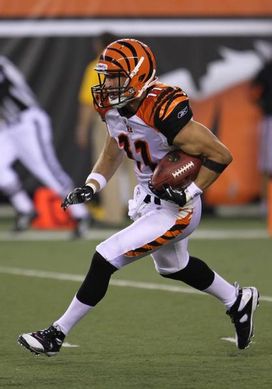 ICONShipley looks like a fit in the slot for Cincy.
Shipley in the slot: Had a chance to watch the replay of the Broncos-Bengals game yesterday from Sunday night, and I liked what I saw from Cincy's Jordan Shipley. He is purely a slot guy at this level and someone who has to play inside of the numbers, but he can run the option route, the underneath crosser and has enough lateral quickness to work away from a defender's leverage. With Antonio Bryant still out with a knee, Shipley is solid fit in the Bengals' three WR sets with T.O. and Ochocinco on the outside. The Bengals get the Eagles tonight.
L.J.'s turn: Last week it was Clinton Portis against the Bills. Saturday, it will be Larry Johnson who sees the majority of the carries against the Ravens. I am interested to see what he can do in Mike Shanahan's system. Can he make one cut and get downhill? Can he press the edge of the defense? Can he cutback and break a tackle? There is some pressure on L.J. to perform and we get to see how he responds in game action.
Alex Smith: The Niners are the sexy pick to win the NFC West, but that is only if QB Alex Smith can complete passes and pick up first downs. He wasn't good enough against the Colts last week (3-9-37-yards), and although it is only August, your No.1 QB needs to make the simple throws in your offense during the preseason. There is enough talent on that offense to score points.
If you can check out the Tampa-K.C. game on Saturday night, pay attention to WR/ KR Dexter McCluster of the Chiefs and WR Mike Williams of the Bucs. Both have had strong training camps and both should have prominent roles for young football teams. These two can play.
Follow me on Twitter: MattBowen41
Click here to purchase the Total Access Pass/ Fantasy Draft Guide from the NFP and receive a free Deuce Brand watch while supplies last.