September 23, 2010 -
Matt Bowen
QB carousel in full swing around the NFL
Even before Eagles' head coach Andy Reid announced that Michael Vick would start at QB over Kevin Kolb on Sunday, we have seen plenty of quick moves at the quarterback position around the league. Let's take some time today to break down the QB situations in Carolina, Buffalo and Oakland—where three new starters step under center this Sunday.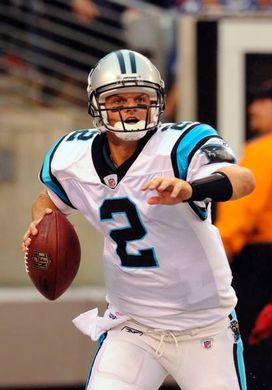 ICONRookie Jimmy Clausen gets the ball this week against the Bengals.
Carolina
Surprised by Matt Moore's production through two games? Have to be after he came in and replaced Jake Delhomme at the end of the '09 season and threw 8 TDs compared to only 2 INTs. He found ways to get Steve Smith involved in the offense, and even after the club drafted Jimmy Clausen out of Notre Dame; there was no question that Moore was the starter going into camp. But, turnovers are a killer in the NFL. Can't have them at the quarterback position. Sure, it might be too early to pull the plug on Moore and hand the ball to the rookie, but the numbers don't lie after an 0-2 start in Carolina: 6 turnovers and a QB rating of 41.8. With Clausen, we will see some mistakes purely based off of his lack of experience at the NFL level, but after this move it doesn't matter—it is the rookie's huddle now. Let's see what he can do starting with Mike Zimmer's defense in Cincinnati. The Panthers used a second-round pick on the former Irish QB for a reason.
Buffalo
Offensive head coaches are impatient. Throughout my career, only once did I play for a defensive head coach (Dick Jauron) and I can tell you that when the offense is struggling to move the ball and score points, the facility is an uncomfortable place to be when the head man has that offensive back ground. Chan Gailey is no different, because he wants to see his product—his scheme—play big on Sundays. We should all agree that Trent Edwards has to sit. He has had numerous opportunities to win this job during his time in Buffalo, and right now, the Bills can't beat anyone with what they are doing from an offensive standpoint. Under Edwards, the offense in Buffalo has been stagnant, dull and ineffective in their two losses to open the season. Ryan Fitzpatrick will come get the start Sunday at New England, and Gailey will expect the veteran backup to put drives together and create field position for this team. Is Fitzpatrick the long-term answer? Probably not, and that is why the Bills will be looking to find a new arm come April.
Oakland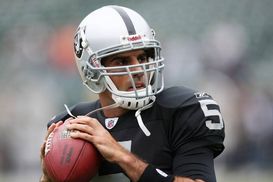 ICONGradkowski put together three scoring drives on Sunday in the win over St. Louis.
Didn't expect Jason Campbell to struggle for the Raiders. He throws a good ball, got through that entire mess in Washington under Jim Zorn and was talked about highly from members of the organization this offseason. But, Tom Cable made the move on Sunday to hand the ball over to Bruce Gradkowski—who got the Raiders a win. Gradkowski is a gammer. He doesn't have the measurables that we always look for in an NFL QB, but the guy can play some football. Oakland wants to run the ball with Cable, but the QB still has to make plays in crucial situations and move the sticks. Gradkowski went 11-22 for 162-yards Sunday in the win over the Rams, and directed the offense to three scoring drives. That sells to any head coach in this league.
Follow me on Twitter: MattBowen41
Click here to win cash today playing fantasy football with the NFP and FanDuel.