March 06, 2012 -
Matt Bowen
Randy Moss' workout tour could get interesting
As Jay Glazer of Fox Sports first reported, the Saints are bringing Randy Moss in for a workout today. That's the first step for any club when looking at the WR. Bring the veteran in and get him on the field.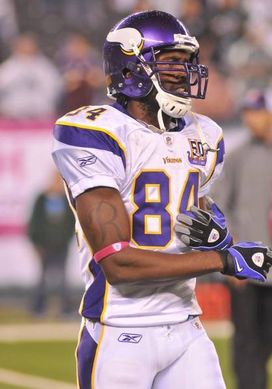 ICONThe Saints are bringing Moss in for a workout today in New Orleans.
And before he even starts to runs routes, you have to see if he can still run. Moss' game was always built on vertical speed and the ability to consistently separate down the field. It didn't matter if he was lined up vs. a CB in press-man or working the deep half of the field vs. a Cover 2 safety. With Moss, he could beat any coverage you threw at him if he won at the line of scrimmage.
However, Moss has to show the Saints today (and any other team) he still has top end speed that is feared by NFL secondaries. Without it? I don't see the value here.
I understand the desire in New Orleans to bring in the veteran WR for a look with the possibility that Marques Colston won't be back with the Saints come the start of the 2012 season. There could be a need at the position depending on what shakes out in free agency.
And that leads us to the next step for Moss. Glazer stated "the Saints are believed to be one of a few teams that are interested in bringing Moss in for a workout in the coming weeks." That makes sense as Moss will most likely have to go on a "workout tour." A process plenty of free agents go through when they are looking for a job.
Bounce around the league and workout for multiple clubs—until you get one to bite. It can be a grind, but it can also be very rewarding if you show just one team you are ready to play some football for them.
I have no idea how Moss will look today in New Orleans after some time away from the game. We will have to wait for the reports to come out on that. But if he does display that speed I talked about above, this could get interesting moving forward. Let's see what happens next.
Follow me on Twitter: @MattBowen41