April 14, 2012 -
Matt Bowen
Redskins get a 'true' leader back in Fletcher
I played with plenty of guys in the NFL that wanted to be leaders. A lot of talk—starting in the offseason program—but you never felt they would show up and take control of a team when things got a little rough.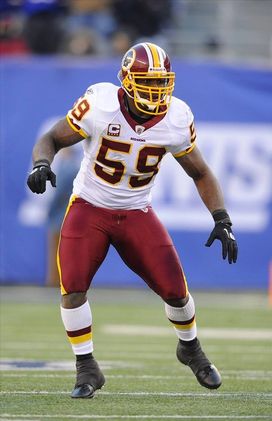 ICONFletcher is one of the best leaders I played with in the NFL.
However, when I look at Redskins' LB London Fletcher, he is that "true" leader in the locker room, in film sessions and out of the field. I played with Fletch in two different stops during my career (St. Louis and Buffalo) and I always gravitated to his style of play, game prep and leadership on Sundays.
As a rookie, I had the luxury of playing for the Rams the year after they won the Super Bowl. To see the professionalism and accountability (on a daily basis) from Fletch along with names such as Warner, Faulk, Bruce, Prohel and Pace stuck with me as a young player. So much you could take in from how to practice and in your approach to Sundays.
Looking at Fletcher's impact in Washington, getting him back for 2012 was a priority in my opinion. Yes, this is a production league. I get that. And the 'Skins will also expect to see the numbers this season from Fletch at the Mike Backer position.
But there is something to be said in pro sports for having a leader—especially around young talent on the defensive side of the ball in Washington. That sells when a vet can demand accountability from his teammates and they respect him for it. Plus, it can filter over to the offense and special teams when a proven, productive veteran takes control of a football team.
You think Fletch will make an impact on rookie QB Robert Griffin III when he shows up on the field for an OTA session or during that first week of camp? I do. No question about that. Because RGIII will learn how to practice and play at the speed of the NFL by watching (and competing against) the 'Skins LB.
Re-signing Fletcher is a win for the Redskins. A move you must make if you want to see a defense—and a team—continue to improve. A player you simply don't replace in this league.
Follow me on Twitter: @MattBowen41