February 14, 2012 -
Matt Bowen
Remember Jimmy Clausen?
The top tier free agents in the NFL will grab most of the attention as we get closer to March, but don't forget about those second and third tier free agents that fill up rosters and provide depth.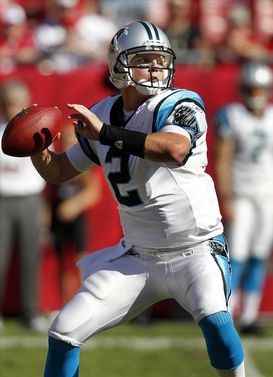 ICONIf Clausen hits the free agent market, will he draw some interest as a possible No.2 QB?
And one of those players could be QB Jimmy Clausen.
The former second round pick out of Notre Dame wasn't active for a single game in the 2011 season and took a back seat after the Panthers drafted Cam Newton No.1 overall.
As pointed out by ESPN's Pat Yasinskas on Monday, Clausen is scheduled to bring in a $923,000 bonus if he is on the roster 14 days after the start of the league year (March 13th) and cutting him would clear over $1-million in cap space.
Sounds like an easy cost-cutting move from my perspective.
Ron Rivera and his staff had plenty of time to evaluate the tape from Clausen's rookie season in 2010 when they took over in Carolina, they saw him compete in training camp and still went with Derek Anderson as the No.2 behind Newton last year.
Clausen will fall into that bottom tier of free agents if he is eventually cut, but whenever there is a QB on the street, teams in this league will take a look.
I don't see Clausen coming into a training camp this summer and competing for a starting job, but when we start to talk about depth at the position (something that was lacking around the NFL in 2011), the former Irish QB could provide some value.
To be honest, Clausen didn't stand much of a chance with a new staff (that didn't draft him) and Newton coming to town at the same time in 2011. At best he was going to be a No.2 and would have to eventually look elsewhere to play meaningful minutes.
It is too early to try and gage the interest level for Clausen as a possible free agent, and this could also be a situation that plays out after the draft when teams are looking to fill up spots behind their No.1 QB.
However, there were teams that had a high grade on the QB when he came out of South Bend and the position is always on the top of the priority lists in today's NFL. Let's see how this plays out for Clausen as free agency gets closer.
Follow me on Twitter: @MattBowen41