September 11, 2011 -
Matt Bowen
Remember this Bears defense?
Let's take a quick look at Falcons-Bears from earlier today, because there are some teaching points here to discuss from the defensive perspective of Chicago in a 30-12 win for Lovie Smith's squad.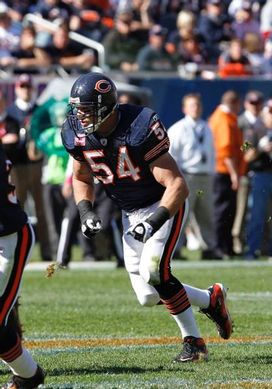 ICONUrlacher and the Bears defense put on a Tampa 2 clinic vs. the Falcons today.
- Take away the deep ball. That's what we saw from the Bears defense today, and outside of a skinny post (or "Bang 8") to Julio Jones vs. Cover 1, this unit played top-down the entire afternoon. How does that work? Rush four—and drop seven into coverage playing the Tampa 2 defense. Limit the QB's ability to work the middle of the field.
- The key for that two-deep shell? Look at the Bears D-Line. Peppers, Melton, Okoye, etc. Lovie Smith's unit was able to win on the edge, use some twist stunts and consistently provide a rush in one-on-one matchups.
- We know the routes designed to beat Cover 2 (Flat-7, 4 Verticals, Dagger, etc.). Wasn't the case today for QB Matt Ryan. The pocket collapsed, and in third down situations the depth of the safeties (plus the drop of MLB Brian Urlacher) created a true 3-deep look. Doesn't matter what you have called in the huddle, because when the ball has to come out quickly it is going to the flat. Make a tackle and get off the field.
- This is how Cover 2 becomes a weapon. Sure, the Bears mixed in some Cover 1 and some zone blitz concepts, but at the core of your defense you rely on pressure from a four-man front. And when you get that (like we saw today) you don't have to be "exotic" in your defensive play calling. Drop to a landmark, read the QB and tackle. It is simple, basic football at its best.
That was a clinic from the Bears in playing the Tampa 2 defense vs. Ryan and the Falcons.
Follow me on Twitter: MattBowen41