August 14, 2011 -
Matt Bowen
Remember this guy?
Shawne Merriman's production from Saturday night's game in Chicago should be talked about: nine snaps, two sacks and another pressure that led to rookie Marcell Dareus making a play on the QB.
Preseason or not, that is good football. And from the perspective of the Bills defensive coaches, this is what you want to see from your veteran talent in August.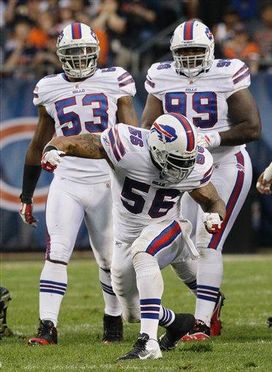 Merriman recorded two sacks (in just nine total snaps) vs. the Bears.
Here is what I saw:
- Speed off of the edge. Merriman showed that initial burst which allowed him to attack—and manipulate—the technique of Bears OT J'Marcus Webb.
-Power at the point of attack. Speed sells in the NFL, but it isn't always the answer. You must have something more to your game as a pass rusher. Merriman looked strong collapsing the pocket.
- A "disruptive" player on defense. What you want from a rush backer in the 3-4 and as a DE in your defensive sub packages (think Nickel, Dime). When opposing offensive coordinators turn on this tape, they will see a player that can force the ball to come out or alter protection schemes.
Moving forward, does it eventually translate to the regular season?
Just as I talked about this morning with Bears RB Marion Barber, look at these preseason games as opportunities. And you can't deny that Merriman played the part last night of an OLB that is going to come hard off of the edge.
Let's be honest here. Buffalo needs players on defense to step up and make some plays if they want to beat New England and compete in the AFC East. And even working vs. the Bears O-Line (a unit that needs more time on the field), the Bills look like they had one of those players last night in Merriman.
The key? It has to continue. Get back to camp, build on this and see the same production when it counts.
Follow me on Twitter: MattBowen41