July 29, 2011 -
Matt Bowen
Report: Newton, Panthers come to terms on deal
The No.1 overall pick in the draft is signed and ready for the Carolina Panthers, according to ESPN's Adam Schefter. Cam Newton agreed today to a 4-year deal that is valued at $22 million—all of which is guaranteed money.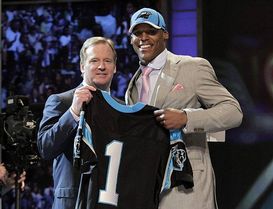 ICONNewton's deal will pay him $22 million in guaranteed money.
As Schefter points out, Newton's deal falls short in total money by $56 million (and $28 million in guarantees) compared to last year's No. 1 overall pick, Sam Bradford of the Rams.
The key for Newton is getting on the practice field. With an offseason that was lost due to the NFL lockout, the Panthers QB will need time and coaching at the NFL level while he competes with second-year man Jimmy Clausen in Carolina.
The Panthers have been active in free agency, re-signing core veteran players and trading last night for Bears TE Greg Olsen. Whenever Newton is ready to take the field during the regular season, he will have some talent around him.
For now, let's see how he performs in his first NFL training camp.
Follow me on Twitter: MattBowen41