February 23, 2012 -
Matt Bowen
Richardson's knee surgery will produce questions from NFL scouts
INDIANAPOLIS—One of the top prospects in the draft, Trent Richardson, will not workout this week at the NFL Combine as he recovers from minor knee surgery. Instead, we won't see the Alabama product run until March 27th, according to Jason La Canfora of NFL.com.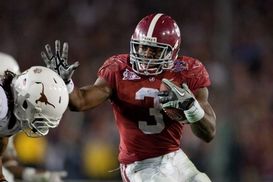 ICONMinor knee surgery isn't going to impact Richardson's draft stock, but it will produce questions from NFL scouts.
Richardson's draft stock isn't going to take a hit due the fact that an injury is preventing him for running in front of league scouts. We know that. His game tape and production at Alabama are the reasons he is the No.1 RB on the NFP Big Board and considered a potential Top 10 pick.
However, when talking with former Bears Director of College Scouting and NFP writer Greg Gabriel, this situation does lead to some new questions.
Here are three things Gabriel would want to know when evaluating Richardson after the knee surgery:
1. Is there overall stability in the knee?
2. Did the surgery uncover any hidden issues with the knee?
3. Is the problem now "fixed?"
Basic questions, but when discussing a top prospect in the draft, scouts will look hard at Richardson's workout in late March to see how his knee responds in his lateral movement and in the position specific drills on the field.
Follow me on Twitter: @MattBowen41