February 11, 2012 -
Matt Bowen
Roethlisberger, Steelers must adapt to Haley
I understand the concerns from Steelers' QB Ben Roethlisberger when it comes to new offensive coordinator Todd Haley, because adapting (or accepting) a new coach in the offseason isn't as easy as it sounds.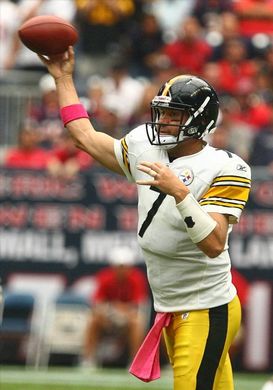 ICONAdapting to the new coaching of Todd Haley is part of the job for Roethlisberger.
There is new terminology, new techniques and eventually a new playbook to learn. And that takes time—teaching time—until you see the results finally start to develop on the practice field. It is a process (a frustrating one) that players experience all over the league when there is "change" within the coaching staff.
I've been through it in my career, and every player eventually will do the same because this is how the league works. It stings when a coach leaves that you trusted (as Roethlisberger did with Bruce Arians), because that sense of security is suddenly gone.
Here is what Roethlisberger had to say about Haley to the Pittsburgh Post Gazette: "I've gotten a lot of calls and texts and emails from people around the league, both good and bad about him. Everybody has an opinion, as we all know, and they're letting me know what their interaction with him was -- good, bad and indifferent. I've heard a lot of things and I'm looking forward to meeting him and forming my own opinion."
There is no question the coach-player relationship (a working relationship) has to be developed to a point where the player can feel comfortable in the meeting room, on the practice field and at the stadium on Sundays. That plays a major role in seeing production on the field.
However, this goes deeper (especially at the QB position) when we start to discuss the new install and terminology. This takes countless hours on the field during OTAs, mini-camps, etc. in the offseason to build the techniques of a new playbook.
And the Steelers' QB commented on that as well: "That was my biggest talking point to Mike (Tomlin) and those guys -- I would hate to just throw everything out and start over because I feel it would set us back two or three years because these guys are just starting to get it. I hope we don't have to start over and, if we do, you know what, here we go. Let's do it. We'll do it. We're not going to complain about it. But I would hate to have to set certain guys back who are doing so well right now."
It's easy to read into what Roethlisberger is saying here, because there is always the risk that you head into training camp lacking preparation when a new coordinator is on the staff. Practice time can be wasted going backwards to teach and make corrections.
That risk is real in Pittsburgh, but this is on the players as well. Part of being a true pro is learning how to transition to a new coach or play caller. And ultimately Roethlisberger—and the rest of the players on offense—will have to buy into what Haley is teaching.
Roethlisberger can take the time to develop his own opinion on Haley. That's fine, but for the Steelers to see production on offense in 2012, everyone will have to put in the work and come together with the new coach.
Follow me on Twitter: @MattBowen41