September 02, 2010 -
Matt Bowen
Rookie guidelines for a final impression
For most rookies (outside of the top draft picks), tonight is one of the biggest games they will ever play in. For starters, it is their final audition to make the club, see their locker on Monday and join that opening day roster. In addition, it is one final chance to get on tape. The same tapes that are passed around to every pro scouting department in the league. In reality, you are playing for the entire NFL tonight. A big audition. With game checks on the line.
The starters will play a series or two and then shut it down. The rookies will then help finish out the last preseason game before final cuts are made.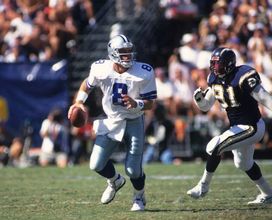 ICONIn my rookie year, the preseason ended in Dallas against Aikman and the Cowboys.
I've been there as a sixth-round rookie for the St. Louis Rams in the 2000 season. Final preseason game against the Dallas Cowboys in the heat of Texas Stadium on the old turf. Played the entire game — as well as all four core special teams. Threw up twice, got to line up against Troy Aikman and also received a $5,000 fine for hitting Dallas RB Chris Warren out of bounds. It was all worth it not to get a phone call over the weekend from head coach Mike Martz asking me to come in — with my playbook.
For tonight, think like a coach, a GM and a scout — and focus on these six key areas. Who do you cut? Who do you keep? This is what they are looking for...
Kickoff coverage
Special teams coaches in the NFL have more say than any coach on the staff when it comes to cut day. They control the fate of the entire roster. That's why we want to see who makes the big hit tonight, who is in on the tackles and who can blow up blockers on their path to the football. Kickoff coverage is the most important aspect of any football team in this league — bigger than both offense and defense. And, coaches want players who will sacrifice their bodies to sell out and make a play.
Turnovers
A killer tonight. As a RB or a WR, don't put the ball on the ground. Coaches can't live with it because they lose games in the regular season. If you fumble the ball, you will not make the cut. Forget that extra yard, because ball security is what coaches are looking for. And, as a QB, if you throw picks, you are telling the coaching staff that they can't trust you in a game that has meaning in the standings.
Deep balls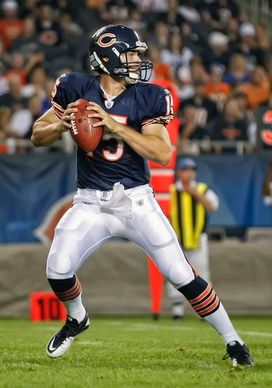 ICONThe entire league will be watching players like Chicago's Dan LeFevour.
If you play in the secondary, you can't give up the deep ball. That gets you beat in the regular season and sends you home in the post season. For tonight, it gets you fired. Coaches want to see their defensive backs challenge receivers and drive downhill on the football, but don't get beat on a double move at the CB position or over the top as a Cover 2 safety. You give up the deep ball tonight and there won't be a locker for you on Monday.
Penalties
Can't have them tonight. On the O-Line, stay onsides and don't get called for holding. Use your technique as a DB, don't panic when the ball is in the air and don't grab receivers down the field. On special teams, don't block in the back — and cancel out a big return. Sounds simple, but if you start racking up penalties tonight — or get a big play called back — you are telling the coaching staff that you can't be counted on to play with discipline in the regular season.
Tackling
Have to tackle to play in this league. On defense — and special teams — you have to get the ball carrier to the ground. Players miss tackles at this level because of poor technique. Duck their heads at contact, don't use their legs to drive through the player, over pursue to the football and take bad angles. But, if you miss tackles — especially in the open field — NFL defenses don't have a spot for you.
Conditioning
Keep an eye on this tonight. I told you above that I was sick on the sidelines when I was in this situation ten years ago. Every young player will play almost the entire game — and that includes covering kicks and then playing defense on the very next play. You will be gassed, exhausted and sick by the fourth quarter. But, as Redskins special teams coach Danny Smith used to say, "Don't come to the sidelines asking for a breather — because there isn't anyone left." The starters won't even have their pads on in the second half. We will see players get beat tonight in the second half because their conditioning is poor.
Got to find a way to push through it — because the reward is great.
Follow me on Twitter: MattBowen41
Click here to purchase the Total Access Pass/ Draft Guide from the NFP.