February 10, 2012 -
Matt Bowen
Routt's release will put vets on alert in Oakland
On Thursday, the Raiders cut CB Stanford Routt—one season after giving him a deal that was eventually restructured to 5-years, $54-million dollars (with $20-mil in guarantees).
A surprise move? I didn't see it coming, but then again, the Raiders have a new GM and head coach in town. And that signals change that should put the veteran players in Oakland on alert.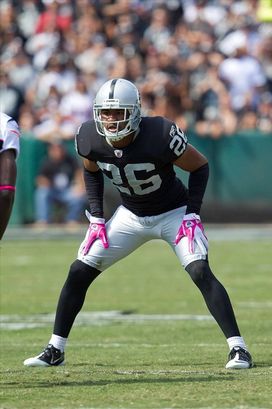 ICONReleasing Routt will send a message to the locker room in Oakland that there is new leadership in town.
This is the job of both Reggie McKenzie and Dennis Allen. Bring in their "own guys," upgrade the roster and build a team that can consistently compete at a championship level.
I have no doubt that Routt will get picked up and signed to a deal this offseason with a new club. He has talent and can play man-coverage in this league. That sells to multiple teams that are in need of help in the secondary.
However, this is what happens when you bring in new management and coaching.
I've been there myself as a player. Back in '04, when Joe Gibbs replaced Steve Spurrier out in Washington, the changes started to happen—immediately.
Along with the new schemes came a new roster. And that meant players had to go.
Clean out the locker room, start the transition and begin to develop a team around the Coach Gibbs with hand picked talent.
I survived (for a couple of years before I was eventually cut), but many of the players that had been with me under Spurrier were scattered across the league during that following season.
And by '05, more lockers were cleared out. That transition continued until, well, most (if not all) of the Spurrier's players were sent packing. That's life in the NFL when you are veteran holdover and new leadership is brought in. You will eventually be replaced.
It's already started with the Raiders. Routt is the first to go and many will follow as McKenzie and Allen begin to go to work on a defense that fits their needs this offseason.
The veterans in Oakland know this and should understand that they aren't "protected" anymore. Some vets will stick around (for now), but forget about free passes or guarantees of making the final roster.
Those days are gone.
Follow me on Twitter: @MattBowen41