September 21, 2011 -
Matt Bowen
Run N' Shoot Podcast 3.0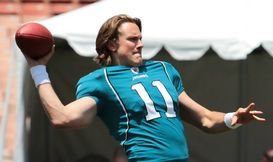 How will Gabbert play Sunday?
The NFP's Matt Bowen and Wes Bunting look ahead to the key matchups in the Packers- Bears this Sunday at Solider Field. How will the Packers' secondary respond without FS Nick Collins and can the Bears handle the pressure of Dom Capers' pressure scheme?
The guys also hit on Blaine Gabbert's first start vs. Cam Newton this week, discuss Michael Vick's status after a concussion and try to figure out a way the Bills can finally bring down Brady and the Pats.
To wrap it up? Some college football talk as Bunting breaks down the Okie State-Texas A&M matchup with the focus on QB play. Check it out...a lot of football to talk about.
Follow Bowen on Twiiter: @MattBowen41
Follow Bunting on Twitter: @WesBunting