August 21, 2011 -
Matt Bowen
Running backs come to play on Sunday night
Watching the Sunday night game in Dallas, I took some notes on what stood out from my perspective: Vincent Jackson's route running, the different looks the Cowboys defense gave under new coordinator Rob Ryan, etc. But how can I not write up what I saw from RBs Felix Jones and Mike Tolbert? Because both players will grade out high when the coaches turn on the tape. Here's what I took from their play tonight…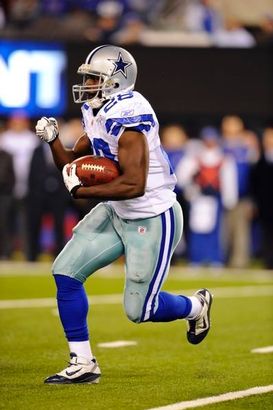 ICONJones showed vision plus the ability to finish runs tonight vs. the Chargers.
Felix Jones: Vision out of the backfield. The Cowboys RB showed the ability to cut back vs. pursuit from the defense, patience finding running lanes and a true burst up through the hole. The bonus from Jones? He finished off runs. Didn't look like an edge rusher when he lowered his pads on contact and drove his legs. You have to get that from the RB position and your No.1 if you are going to use the downhill running game. Looked like a much more complete player than in the past.
Mike Tolbert: Too early to tell what type of rotation the Chargers will have with Tolbert and Ryan Mathews, but is there any reason to take this guy out of a crucial short yardage situation? When this tape gets out, the rest of the league will see a player that explodes on contact, can stay in on protection schemes and make some plays in the receiving game. And if you are DB, you better keep your head up and get your pads low to the ground—because Tolbert can run right through you. There won't be many DBs that square him up in the open field once he gets to the second level of the defense.
Again, I understand this is preseason football with basic schemes and alignments, but that gives us even more of a reason to focus on the individual talent. And I saw two RBs that looked ready to play regular season football tonight.
Follow me on Twitter: MattBowen41