December 02, 2012 -
Matt Bowen
Russell Wilson made me a believer today
Every week, I co-host the Bears pre-game show on 670 The Score here in Chicago. We talk matchups, Xs and Os, game plans, etc. for three hours leading up to kickoff.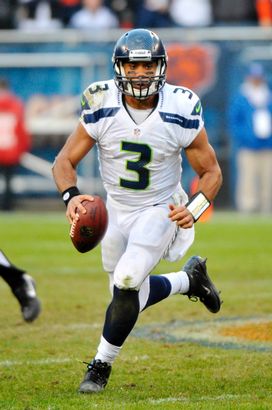 US PRESSWIRERookie QB Russell Wilson showed poise, confidence and play making ability in today's win over the Bears.
Today, the discussion centered on the Bears O-Line, Jay Cutler, Brandon Marshall and Matt Forte. Why? Seattle was bringing a top five defense to Soldier Field with edge speed plus legit size and length in the secondary.
Russell Wilson? Well, I took that for granted to be honest. A rookie vs. the Bears' defensive front? Nah. No need to waste time there, right? This would be a game where Wilson would struggle against the Bears front four, make mistakes, force the ball into the deep half, etc, etc.
Instead, I saw a young, athletic, confident and relaxed rookie quarterback vs. a defense that looked old, slow and played undisciplined football when the game was on the line.
The rookie from Wisconsin navigated this football game, made smart decisions and completely took over when the pressure was on to put a drive together at the end of regulation and in the overtime period to get the win.
Sure, Pete Carroll and offensive coordinator Darrell Bevell deserve some credit here for the game plan they put together. Look at the movement passes, the 3-step routes vs. Cover 1 and the Read Option. And that option package out of the gun late in the fourth quarter and overtime beat up the Bears, tested their edge discipline and produced results in crucial down and distance situations.
However, I want to move beyond scheme here with Wilson because of the poise he displayed. Foucs on his ability to consistently break contain, extend plays, step up in the pocket and allow receivers time to convert routes when he needed to make a throw for his club.
293-yards passing. 71-yards rushing. 2 TDs.
That's veteran stuff right there from a young player on the road vs. a defense I considered to be one of the top units in the league. And because of that, I have no problem admitting I was wrong about Wilson today.
The rookie can play some football.
Follow me on Twitter: @MattBowen41