April 15, 2011 -
Matt Bowen
Russell's story should be a lesson to draft prospects
JaMarcus Russell, the former No.1 overall pick, had everything when we discuss NFL talent coming out of LSU. Size, arm strength and just about any measurable we can apply to the QB position.
But that is gone—and possibly for good. According to a report from Jason Cole of Yahoo! Sports, Russell's "life coach," John Lucas, has moved on from the QB. The one person put in place to help jump-start the former Raiders' career has seen enough. And now we are left to wonder what he could have been.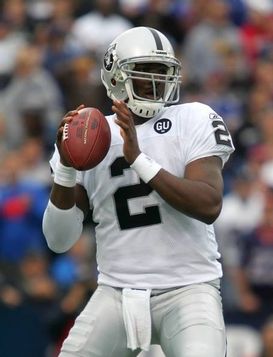 ICONRussell is another example of a top talent that washed out of the NFL.
Am I surprised? Not really, because during my career I saw countless players—talented players—wash out from the league.
With Russell, it is magnified due to the draft position, the big bonus check and the lack of production during his brief time in the NFL. But it happens every year to multiple players. They don't cut it from a professional standpoint and find themselves unemployed from NFL standards.
These draft prospects need to listen to this story, learn from it and realize that nothing is guaranteed in this league.
Talent? Everyone has talent or they wouldn't be wearing a jersey with the NFL shield stitched on the front. What Russell didn't have was the willingness to improve, to practice his craft and to act like a professional towards the game.
That is far more important than 40 times, if you can throw the deep comeback and what you look like in a pair of shorts on a stage at the combine. Even the game tape—the film we spend countless time on grading these prospects—doesn't translate to the NFL if a professional attitude doesn't come with it.
This past week, I watched the "Brady 6" on ESPN. There is a reason Patriots' QB Tom Brady is the reigning MVP, has multiple Super Bowl rings and continues to push his game to levels that were never thought possible when he was drafted. The guy is a winner. Plain and simple. That's the best way I can say it.
Something we can also apply to QBs such as Peyton Manning, Donovan McNabb, Aaron Rodgers and Drew Brees. These players treat the game as pros—the opposite of what we saw from Russell.
I used to tell rookies when training camp opened that the NFL isn't easy. It is a job, a cut-throat job, that will eat you up if you don't approach it with professionalism every day in practice, meetings, the weight room, etc. A unique daily grind that tests you as an athlete—complete with adversity. It can be a great job—a fantasy job—if you bring the right mindset each and every day you walk into the facility.
I don't expect to ever see Russell play in the NFL again. That time—and that opportunity—was thrown away. However, the prospects that will soon be celebrating in family rooms across the country next week when they see their name flash across the screen need to take notice of this.
Because they won't last if they don't show up ready to work.
Follow me on Twitter: MattBowen41