December 27, 2010 -
Matt Bowen
Saints-Falcons: five things to watch for tonight
Let's talk Saints-Falcons. Five things to watch for tonight in this NFC South matchup down in Atlanta.
1. The Falcons' play action: Something to keep an eye on is the deep play action game. As we will get to, the Falcons' offense will want to feature Michael Turner in the game plan—and that will create opportunities for QB Matt Ryan. The boot game and the deep vertical routes to WR Roddy White that take advantage of eight-man defensive fronts. You can head to the stadium with a game plan designed to run the football, but that doesn't discount the importance of stretching the defense to create explosive plays.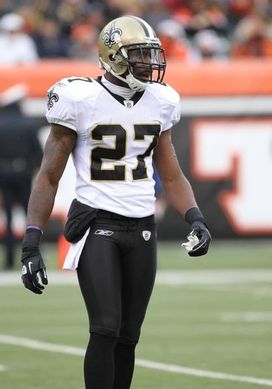 ICONThe Saints need big defensive plays from Jenkins and the secondary tonight.
2. The Saints' pressure schemes: New Orleans has to generate big plays on defense—and they won't do that by sitting back in coverage. Coordinator Gregg Williams will play some Cover 2 and Cover 6 (quarter, quarter, half) but look to see what he does in 3rd down situations with his three-man fronts. This is when the Saints will use their blitz schemes and keep six defensive backs on the field. Force the ball to come out and jump routes in the backend. The time for Malcolm Jenkins and Darren Sharper to break on the ball.
3. Michael Turner's production: All the Falcons have to do is watch the tape from last week's Saints-Ravens game to see the issues New Orleans had up front. Atlanta can run the ball with Turner and that translates into long, sustained drives that keep Drew Brees and the New Orleans offense off of the field. And, we have to mention the red zone. Turner is an excellent option inside of the ten-yard line—because he produces touchdowns. The Saints have to tackle if they want to limit Turner.
4. Don't forget about Brees: There should be a lot of talk about Ryan in the Georgia Dome, but let's not forget about how quickly this New Orleans offense can get down the field. Empty sets, plenty of pre-snap movement and multiple personnel groupings that give Brees matchups to work with. One area to watch tonight? The middle of the field. Throw the skinny post and the inside vertical seam vs. this Atlanta defense. Brees could have big numbers tonight.
5. Tony Gonzalez: Spend some time watching the Falcons' tight end. He plays like a pro, uses his hands to beat press coverage at the line of scrimmage and runs clean routes. I love to sit back and watch veteran talent that has beaten the perceived "age limit" of the NFL only to keep producing and playing at a top-tier level. That is Gonzalez. He beat me for a TD a long time ago when he was in a Chiefs uniform and he is still doing it to NFL safeties.
Follow me on Twitter: MattBowen41