March 02, 2011 -
Matt Bowen
Sanders, Atogwe should benefit from average safety class
Safety Bob Sanders is in New York to meet with the Jets today after two previous visits with the Jaguars and the Bills. Another free agent safety, O.J. Atogwe, has talked with the Redskins—a club that needs help in the middle of the field.
And after watching the prospects in Indianapolis work out on Tuesday at the NFL combine, I expect the value of both Sanders and Atogwe to grow.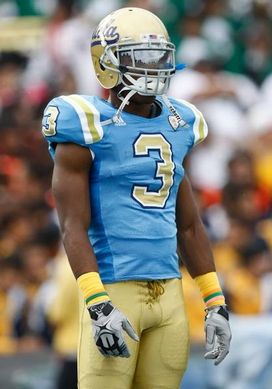 ICONCan UCLA's Rahim Moore make an impact as a rookie in the NFL?
There is no Eric Berry or Earl Thomas coming in this year's draft class. Instead, we are looking at a group of players that can provide depth to an NFL roster, because I don't see the top talent—first round talent—at the safety position. And as we have discussed before, the style of offensive football in the NFL today dictates personnel and scheme from the defensive side of the ball. You need safeties with cover skills, range and physicality to their game.
Rahim Moore, the free safety from UCLA, might be at the top of the safety class when it comes to grading out prospects. He ran in the 4.5s in Indy, can open his hips and displayed solid footwork for a safety. However, when you turn on the tape, you aren't going to see the most physical player on the field.
One scout I talked to over the weekend at the combine has Moore as a third-round grade. Yes, that can change—and most likely will change—with the demand for safeties in the draft. And we will see prospects over valued—forced up the draft board.
Take Oklahoma's Quinton Carter. A player I like after watching him in Mobile at the Senior Bowl. Size, good range, but as we found out yesterday, average speed (timed in the 4.6s). There is no question that teams are interested in Carter, but he needs NFL coaching when it comes to technique and angles to the football. A good football player, someone that can develop into a starter at the NFL level.
However, Carter (like most of this safety class) isn't going to provide the immediate impact of Sanders or Atogwe. Proven, productive veteran players that can step in and start.
We still have pro days to get through and more film for the scouts to watch, but as we sit here today after the NFL combine; this safety class isn't what I expected.
Follow me on Twitter: MattBowen41