September 18, 2011 -
Matt Bowen
Say hello (again) to the Saints defense
A quick look back at what I saw today from the Saints defense in the 30-13 over the Bears…because that was some good pressure football from New Orleans.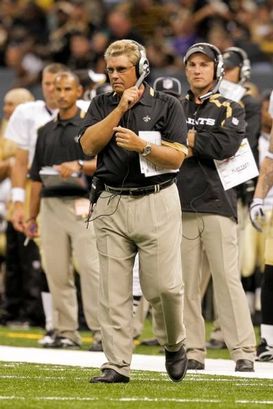 ICONThe Bears didn't have an answer for the pressure of Gregg Williams and the Saints.
- Secondary play. Start there—because this unit made the corrections after the Week 1 loss. I am a big fan of what Jabari Greer can do at CB and when you generate pressure from the safety position (a must in Gregg Williams' scheme) we are going to see multiple looks and coverages in the backend. Thought this group anticipated route schemes, took good angles to the football and tackled well. They should grade out high in film review.
- The pressure. We shouldn't be surprised that New Orleans used their blitz package as a weapon today. The game plan? Edge pressure vs. a Chicago O-Line that was beat up and slow off the ball. The key (and what we didn't see in the loss to the Packers) was the execution. Anyone can show coverage and roll into a blitz front, but you have to get home and beat protection schemes.
- Sit on the hot reads. Bears QB Jay Cutler didn't have options inside or outside of the numbers. What that does is allow safeties Malcolm Jenkins and Roman Harper to sit at a depth of 8-10 yards, flat foot read the QB drop and break downhill on the throw. A luxury when you know the ball has to come out.
- This is the NFL, and in this defense, Williams is going to consistently attack a weakness. Today, that was the protection scheme. I thought he poured it on in the second half, shut down Martz's route schemes and dictated the flow of the game. And outside of the check down to Forte (plus the screen game), the Saints took away any down the field routes from Cutler and the Bears.
Follow me on Twitter: MattBowen41