January 25, 2011 -
Matt Bowen
Senior Bowl notebook
MOBILE—One day down. What did we see from the prospects and what did we hear at practice? Let's start breaking down the Senior Bowl and talk some news and notes from Alabama. My recap from taking in the North squad practice on Monday.
Some DB talk: I like Virginia Tech's Rashad Carmichael. The CB has quick feet, was solid in his backpedal and showed a good burst coming out of his breaks. The secondary only played Cover 1 and Cover 3 yesterday, but Carmichael did show that he could work from an off-man alignment and break on the ball. Caught my eye starting with individual drills and carrying over into 7-on-7 and team drills.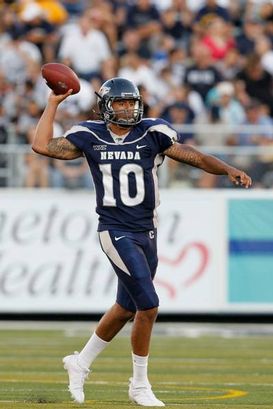 ICONNevada QB Colin Kaepernick.
Quarterbacks: Always a main attraction at college all-start games. Washington's Jake Locker, Iowa's Ricky Stanzi and Nevada's Colin Kaepernick. All three have pro arms, plus can they throw a good ball underneath and in the intermediate passing game. The major difference from seeing these QBs up close is their release points—which was a hot topic on the practice field. Locker has the prototypical motion. A quick and compact release. With Stanzi, it is a classic over the top angle. For Kaepernick (who might be one of the best athletes on the field) you see a slower and longer release. More of a windup motion. They weren't perfect, but not bad for the first day in Mobile.
Iowa's Christian Ballard: Heard from a league source that the defensive end was scheduled to talk with the Chiefs and Vikings on Monday night followed up by a visit with the Patriots this morning. Most scouts see Ballard as a DE in a 3-4 scheme, but I do see a player that can also play in a 4-3 front and rush the passer. It is always interesting to see which teams start to target players this early in the draft process.
Boise State's Titus Young: Watching the skill positions on Monday, Young is the one player that stood out above everyone else. I can agree with the notes from the NFP's Wes Bunting, because the speed—top end speed—was evident down the field. Young showed the ability to stem his route with a vertical release and then separate when the ball was in the air. He ran past people all day. But don't mark him down as just a deep ball guy. This is the type of prospect that would be a fit in an offense like Andy Reid's in Philly or Mike Martz's in Chicago—where the underneath crossing routes come into play. You want receivers that can work away from a defender's leverage and make a play with the ball in the open field. Young displayed that ability on Monday.
More Marvin Austin talk: The D-Lineman from UNC isn't in Mobile, but that doesn't mean that the talk surrounding the former Tarheel hasn't spilled over from the East-West Shrine game last week. No question he has talent, but everyone I talk to still isn't sold that he is going to stick in the NFL once he gets drafted. Still plenty of questions out there.
The pace of practice: This isn't talked about often, but the players I spoke to on Monday brought up the pace—and the speed—of a pro style practice. There is a jump from college ball in this situation where drills, special teams and teamwork are run at a faster pace than these players are accustomed to. Add in Marvin Lewis' coaching staff from Cincinnati and these prospects are looking at an entirely new experience under the stress of Mobile. The first taste of pro ball.
Stay with the NFP for more notes, podcasts, etc. from Mobile…
Follow me on Twitter for Senior Bowl updates: MattBowen41
Want to work in the NFL? Click here to sign up for the NFP's "Chalk Talk" seminar at the Combine in Indianapolis on February 25th.