January 23, 2013 -
Matt Bowen
Senior Bowl: Tuesday prospect notes
After watching both the North and South squads practice on Tuesday at the Senior Bowl, here are some of my notes from Mobile.
Eric Fisher is a true talent: It is easy to see the skill set the LT brings to the field. Fisher has great flexibility, power in his base and is strong on the initial punch. The Central Michigan product stands out in One-on-One drills and plays with technique. That sells in Mobile when you can consistently win matchups in front of the entire league. There is no question Fisher carries a first round grade and I would bet he is climbing up some draft boards.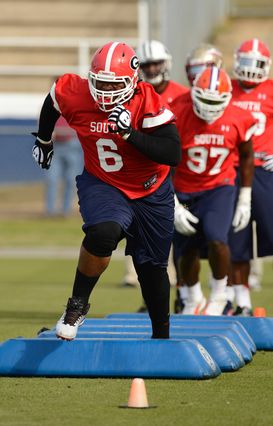 US PRESSWIREJenkins showcased some power in One-on-One pass rush on Tuesday.
John Jenkins: The NT/DT from Georgia has legit power. During One-on-One drills, Jenkins beat up interior O-Lineman with a straight bull rush. Looks like a good fit as a 3-4 NT that can extend his arms and generate a solid push up the field.
Small school talent at CB: There are going to be questions on the size of CB Robert Alford (5-9), but the Southeastern Louisiana prospect wants to compete. I was impressed with his footwork, closing speed vs. inside breaking routes and the ability to change directions. A scout I talked to projected him as a guy who could fill the role as a No.3 corner.
More QB questions: I can see why scouts are looking at Syracuse QB Ryan Nassib. There are some skills you can develop when watching him in 7-on-7, team, etc. But I haven't been overly impressed with the QBs so far. I'm anxious to start looking at college tape after the Super Bowl to get a better feel for this group.
Denard Robinson's transition to WR: Route running. That's where the former Michigan QB needs work. Robinson is a great athlete. And I could see that when he ran a couple of double-moves during the morning session. But for anyone trying to make the switch to the WR position, the ability to run clean routes is the biggest challenge. Right now Robinson will round his cuts coming out of his breaks and that allows DBs to close on the ball.
Keep an eye on safety Jonathan Cyprien: The FIU product stood out on the practice field and is built like an NFL safety. Cyprien took good angles to the ball and he was physical at the point of attack on Tuesday. A player to watch the rest of the week.
Lane Johnson: The Oklahoma offensive tackle has top tier athletic ability, good feet and moves well in pass pro. The question: can he add some more size to his frame? One scout told me he would like to put 10 pounds on Johnsion.
USC safety TJ McDonald: Scouts aren't sold on his game tape, but McDonald showed some range on Tuesday, the ability to flip the hips in coverage and he wasn't shy about setting his pads on the edge. I know McDonald is stiff in his pedal and needs to come out of his breaks with more speed. However, looking at his size (6-2), I see the USC safety as an interesting player.
WR speed: I will focus more on the WR prospects tomorrow, but check out Louisiana Tech's Quinton Patton. He can push a CB up the field and get on top of the secondary. Deep ball speed.