September 09, 2011 -
Matt Bowen
Should Bears' fans be 'scared' of Rodgers, Packers already?
The Packers offense is legit. No other way to say it after seeing what they could do vs. the Saints with QB Aaron Rodgers and the amount of talent at the skill positions.
The fallout from that game? My Twitter feed blew up with questions, comments and straight panic from Bears' fans.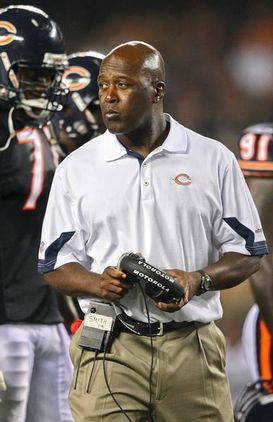 ICONLovie's Tampa 2 defense is the best scheme to play vs. Rodgers and the Packers.
That happens when the Packers are featured on opening night and carve up the New Orleans' secondary in front of a national audience. However, its time for Bears fans to take a step back and relax.
Think about it this way: Lovie Smith's defense is the complete opposite of what we saw from Gregg Williams' Saints last night.
This isn't an "exotic" scheme in Chicago. Sure, the Bears will use zone blitz concepts and play some single-high safety defenses (Cover 1, Cover 3, Under 10), but at the core of what they do is the Tampa 2 defense.
From my perspective, the best coverage to play vs. Rodgers and the Packers when you have a four-man rush, a Mike Backer that can run and a secondary that understands technique and route concepts.
Does that mean we will see the Bears shut down this Green Bay offense in Week 3 at Soldier Field? No, because there isn't a defense in the NFL that can consistently win vs. Green Bay in the passing game.
The Bears have had success vs. Rodgers in the past because they run (and understand) a system that plays top-down. Drop to a landmark, read the QB and force the ball to go underneath. And that leads to offenses putting together long, sustained drives. Not easy to do in this league.
I know there are multiple passing concepts (Flat-7, 4 Verticals, Dagger, etc) that are specifically designed to break down and beat the Tampa 2 defense. Plus, the Packers will test the middle of the field with speed (think Jermichael Finley and Greg Jennings).
However, this system works when you play with discipline and the technique that is coached. And it is the same system I would lead with in the game plan vs. Green Bay.
Do you want to play blitz-man vs. Rodgers? Not unless you have a top-tier secondary that can cover and drive on the football on every play. I'll stick with Cover 2...
Follow me on Twitter: MattBowen41