February 21, 2012 -
Matt Bowen
Should RGIII throw at the NFL Combine?
Just yesterday, I wrote a post on Oklahoma State's Justin Blackmon and applauded the WR for opting to work out in front of the entire NFL at the Combine in Indianapolis.
A smart move—even for one of the top prospects in the draft—because you should have nothing to hide in Indy.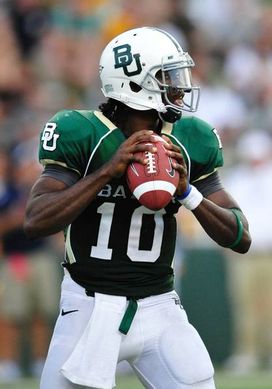 ICONGriffin will run at the NFL Combine, but we will have to wait until his Pro Day to see him throw.
But what about QB Robert Griffin III? We all know he could come off the board as high as No.2 overall (if a team trades up with the Rams). Plus, with the demand for the position in today's NFL and clubs such as Cleveland, Washington, Miami and Seattle all in desperate need for a QB to develop, Griffin's stock is going to rise.
Speaking on The Dan Patrick Show (via Pro Football Talk), the Baylor product said he will run at the Combine, but he probably isn't going to throw.
I get it. These QBs throw in the stale environment of Lucas Oil Stadium to WRs they have never worked with before. They don't know how they come out of their cuts, when they break at the top of the route stem and also where they like the football on inside and outside breaking routes.
Much easier to throw back on campus at your Pro Day to receivers you have played with on Saturdays. NFL scouts, GMs and head coaches know this and they also expect you to light up a Pro Day workout in shorts down the street from sorority houses. A comfortable and easy environment.
But why not get on the field at the Combine and create some buzz? And for a prospect like Griffin, he could come out of Indy as the most talked about QB if he were to throw the ball with velocity and accuracy.
My advice to any rookie prospect: show up to Indy ready to work and compete—in every drill. That includes the interviews, the on the field testing (40, short shuttle, broad jump, etc) and the position specific drills.
It is the the ultimate job interview and this is exactly what the NFL wants: workout in an environment that doesn't cater to the player. Because they want to see how you respond. And that should include the "top prospects" in the draft.
Click here to see the NFP Big Board.
Follow me on Twitter: @MattBowen41