March 09, 2012 -
Matt Bowen
Should the Bears make a run at Mario Williams?
The Bears have money to spend with multiple needs heading into free agency and the NFL Draft. We know about the glaring issues outside of the numbers at the WR position and the search for a No.1 target for QB Jay Cutler.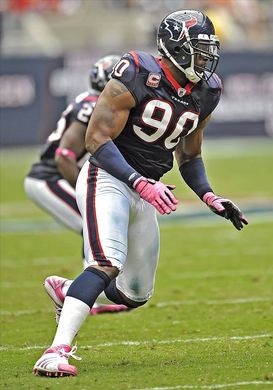 ICONLanding Mario Williams in free agency would give the Bears another top tier pass rusher opposite Julius Peppers.
That's a situation new GM Phil Emery has to address by adding a veteran talent such as Vincent Jackson, Marques Colston, etc. or looking at the draft to pick up a rookie wide out. Think of Michael Floyd or Stephen Hill at No.19 in the first round.
But what about Lovie Smith's defense? The Bears want to add a pass rusher opposite Julius Peppers and they need to upgrade along the defensive front if they continue to lean on Cover 2 (Tampa 2).
Now, I know the price tag won't be cheap, but could you image a defensive front with both Peppers and Mario Williams in Chicago?
The Texans DE switched to the OLB position this past season in Wade Phillips' defense down in Houston before suffering an injury. However, he is the ideal fit to play the rush end spot in a 4-3 front. And with that comes size, true speed and athletic ability that alters protection schemes.
Remember, the Bears don't play a complex scheme under Lovie. You will get Cover 2, Cover 3 (4-under, 3-deep zone), Cover 1 (man-free) and zone blitz concepts (rush-five, drop six) out of their base and nickel sub package.
But it all starts with their ability to rush the passer.
The Bears want to win in early down and distance situations for one reason: to drop seven into coverage in passing situations. However, you won't get production playing Cover 2 in the NFC North vs. Aaron Rodgers and Matthew Stafford if you don't get home with your front four.
And let's not forget what this would do for the Chicago secondary. You can align with more depth as a safety, drive downhill on routes and play over the top of the standard Cover 2 beaters (Flat-7, 4 Verticals, etc.) because the ball has to come out. Take away the vertical concepts and force the QB to work the underneath routes.
Emery and the Bears can go multiple directions on Tuesday when free agency opens. Maybe we do see Chicago target Jackson and offer up a five-year deal to come catch passes from Cutler. However, the idea of seeing Williams paired with Peppers is something I would seriously entertain.
Want to learn how to study the NFL Draft? Click here to sign up for the NFP's online scouting class.
Follow me on Twitter: @MattBowen41