October 12, 2011 -
Matt Bowen
Should the Eagles hire a 'defensive consultant?'
The reason Kurt Warner, Marshall Faulk, Isaac Bruce, etc. aren't walking around today with a second Super Bowl ring is because of the Rams' defense I played on as a rookie during the 2000 season.
That offense under Mike Martz was the best I have ever seen in this league. And that team should have repeated as World Champs.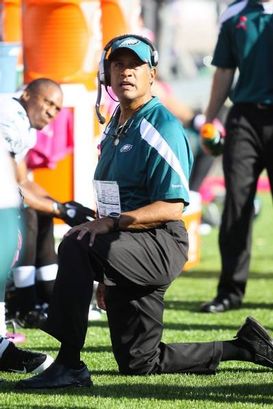 ICONShould the Eagles bring in a consultant to help out Castillo? Sounds like a quick fix, but it isn't the answer.
However, we couldn't figure it out on the defensive side of the ball. We would blow coverages and fail (consistently) to make a big play in crucial situations.
As one of my former Rams' teammates told me last night: "If we were an average defense, we would have repeated."
The answer from head coach Mike Martz? Bring in a defensive consultant. The late Bud Carson was brought in during the season—but we still continued to struggle.
The exact reason I was questioning the Eagles decision makers after ESPN's Chris Mortensen reported that Andy Reid and the front office had discussions about bringing in a consultant to help defensive coordinator Juan Castillo.
Reid responded on Tuesday, saying the club isn't going to make a move, and I see that as the right call here.
The atmosphere when Carson came into our meeting room back in 2000 was uncomfortable—at best. We didn't know who to listen to. Was it our defensive coordinator, Peter Giunta, or the new guy talking from the back of the room?
Carson was a great defensive mind. There is no denying that, but he didn't know us, work daily with the team during training camp or know our individual strengths and weaknesses.
He shook some things up, made some changes to the lineup and tried to put us in a better position to win based off of what he saw on film. But we still didn't play good enough football on defense and we were exposed once again in a playoff loss to the Saints.
There's no question the Eagles have to play a better brand of football under Castillo and I commented on that after the loss to Buffalo on Sunday. But let the Philly coordinator make the adustments, some possible personnel moves in the starting lineup and put this defense in a better position to win (and get back in the NFC East discussion).
That is the right move for Reid and the Eagles, because "consultants" aren't always a quick fix.
Follow me on Twitter: MattBowen41