July 07, 2011 -
Matt Bowen
Should the Texans make a run at Asomugha?
Nnamdi Asomugha, one of the best football players in the league (and top CB in the game depending on who you talk to), is going to be looking for a new job once the lockout is lifted. And the Texans, along with new defensive coordinator Wade Phillips, have the right idea—according to reports—to make a run for the soon to be free agent CB.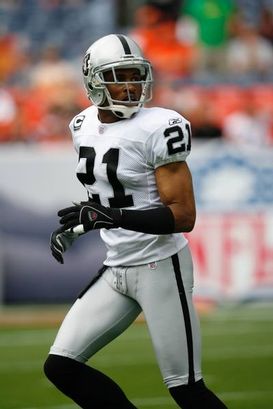 ICONAsomugha won't come cheap, but in Phillips' pressure scheme he is worth the investment.
From my perspective, there is no question that Houston should put together a strong offer for Asomugha. This is a defense that has looked soft and lacked the aggressive style that wins in the NFL. Bring in the new coordinator and start adding new, quality talent (which the team did via the draft already) that fits the pressure style we will see from the Texans this season.
Sure, you and I would have to win the lottery to pay the contract that Asomugha is going to demand on the open market. However, we are talking about a CB that can play man coverage vs. any No.1 WR in the NFL.
You have to pay for that, and when I talk scheme (the Xs and Os of Phillips 3-4 system) you must have CBs that can play both press and off-man coverage. The new defensive coordinator will use some zone blitz schemes and play some base coverages, but the idea with Phillips is to attack the offense. Play Cover 1 (man-free) and blitzout of Cover 0 looks (no safety help).
Real pressure that puts the stress on the secondary to break on the football and make plays. You get that with Asomugha, along with size, speed and any other measurable we want to talk about with the CB position. A player you want to coach.
The argument against the Texans bringing in Asomugha? Probably value. How much do you spend on one player when you just drafted a first-round CB in Kareem Jackson in 2010 along with the Hurricanes' Brandon Harris this past April in the second-round?
My answer: as much as it takes. Because elite players like Asomugha aren't walking around on the streets looking for work. And when you have them in the huddle, your game plan expands and allows you to get creative as a defensive play caller. No different than what we see in New York with Darrelle Revis.
It isn't going to be cheap. We all know that. But adding Asomugha gives Phillips a true No.1 CB to pair with his young talent in the secondary. Plenty you can do with that when you are trying to beat the Colts in the AFC South. And great defenses win in the secondary.
Follow me on Twitter: MattBowen41