July 14, 2011 -
Matt Bowen
Should we buy into the 'agent hype' on Randy Moss?
I want to believe the hype coming from agent Joel Segal on his client, Randy Moss, who said the WR is in "freakish shape," according to Jason La Canfora over at NFL.com.
But I still have to see it on the field, because for me to buy into agent propaganda, Moss has to show up in training camp ready to play top tier football.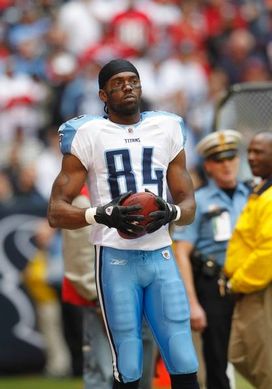 ICONMoss didn't show us much when he finished off the 2010 season in Tennessee.
Here is what Segal said about his client: "Randy has been working out, two-a-days, all spring and summer in West Virginia.
"He is determined, motivated and quite frankly has a huge chip on his shoulder. Whatever team ends up getting Randy, they're going to know they're getting the old Randy Moss. He's not just coming in to be on the team, he's going to be Randy Moss -- a difference maker."
The key word here is "difference maker," because that is how Moss was viewed during my career. Play with more depth in Cover 2 and be prepared to turn your hips and run. He had no problem getting on your cushion as a DB and he could run past anyone on the field on the 9 (fade) route. A player that altered defensive game plans.
I can't say that today after he went on a three-team tour last season that ended with the WR playing the role of a non-factor in Tennessee.
I'm sure Moss is in great shape, but so is the rest of the league as they use the month of July to fine tune their conditioning and prep for camp. That's expected from pro athletes—and Moss is no different. Come to camp ready to compete.
But we need to see more than just a guy who wants to go out there and compete if Moss is truly going to regain his old form at the age of 34. He needs to be dedicated and attack the secondary every day to prove that he is back once a team gives him an opportunity after the lockout is lifted.
Until then, his agent can tell us how great his client is, but training camp will give us the real story.
Follow me on Twitter: MattBowen41