July 01, 2011 -
Matt Bowen
Should we buy into the Terrelle Pryor hype?
Maybe I am missing the point here on former Ohio State QB Terrelle Pryor, because I just don't see it.
Yes, I caught some of the ESPN special last night with Pryor and Jon Gruden. No question I respect the former Bucs' coach and his opinion. I played against his teams multiple times when he was the headman in Tampa. They played physical in all three phases of the game and you can tell as an opposing player when a team is prepared for Sundays.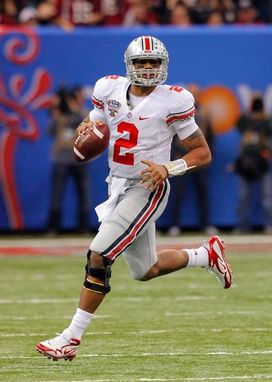 ICONHow much time will it take for Pryor to develop at the NFL level?
That is what you got from Gruden's squad. But that doesn't mean I have to buy the Pryor hype yet becasue of what the coach said, or the QB's agent and his clients that are spinning propaganda.
I pulled out my coaches tape recently and checked him out. Games vs. Iowa, Wisconsin and Miami. What did I see? A great athlete playing QB. Can get out the pocket, create his own room to run and does show above average arm strength.
However, I also saw a QB that isn't NFL ready. Doesn't throw the ball well in the intermediate game and when you are under center in this league, the 3-step slant and the fade aren't enough to get it done. You have to throw the deep out, the comeback and the entire route tree that I broke down here at the NFP in game situations on Sundays.
That doesn't mean Pryor can't develop into a capable starter at some point in his NFL career with good coaching and a true professional approach to his own game. But how long are we talking about here? And which team is going to give him that chance?
Maybe we do see a club move him around, try him at the TE position or as a backside X receiver with that big frame and athletic ability. Something that the NFP's Wes Bunting has already discussed as a possibility. That is an option. As is getting him on the field in creative packages and in certain situations such as the red zone, etc.
However, before we even get to that stage we have to talk value (or supplemental draft value) with the former Buckeye. Because if you decide to give Pryor that chance and bring him to camp once the lockout is eventually lifted, that draft pick is gone next season. And you can't get it back.
And with that at stake, I can't go any higher than a fifth round value for Pryor if I am running a team right now. That's where I draw the line if I am going to invest in a player that realistically needed another season of college football in the Big Ten to work on his own skill set at QB.
Now let's see what the NFL thinks of his true value when the supplemental draft rolls around.
Follow me on Twitter: MattBowen41