May 12, 2012 -
Matt Bowen
Should we buy the offseason hype with Moss?
This week there was some offseason hype surrounding Randy Moss after workouts with his new club in San Francisco.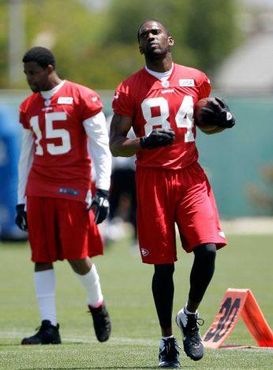 Randy Moss looks good in shorts, but will that translate to the regular season for Harbaugh and the 49ers?
Here's what 49ers safety Donte Whitner said of the veteran WR (via the Matthew Barrows of the Sacramento Bee): "He's running the same as he's always run. His body looks like a younger Randy Moss."
I have no reason to doubt Whitner when it comes to judging the straight-line speed of a WR or a veteran's playing shape. The strong safety has played good football for while in this league and knows what legit talent looks like.
And when you hear "speed" with Moss you immediately think of the deep ball. Game changing plays that flip the field. The 9 (fade) route vs. Cover 1 or the 8 (post) route vs. a deep half safety in Cover 2.
That's the ideal situation (or hope) for Moss, QB Alex Smith and head coach Jim Harbaugh. A situational wide receiver that opens up the playbook in San Francisco, widens the middle of the field for TE Vernon Davis and improves the overall depth and quality of the WR unit.
However, it's only May and we haven't even hit the Memorial Day holiday yet. And running routes in shorts doesn't guarantee success in the regular season. It never has.
The 49ers should be optimistic with Moss displaying some speed after a year away from the game. As I have said before, he was the most feared WR I ever played against on the field. He altered defensive schemes when he was dedicated to the game plan.
But we have a long way to go until the Niners open up the season. Maybe Moss is that same player I just talked about or maybe not. I can't tell you that right now. And nothing he does this offseason can answer that.
To buy the hype, we need to see that speed in the regular season—consistently—when it counts.
Follow me on Twitter: @MattBowen41