December 28, 2010 -
Matt Bowen
Should we call the Saints the NFC favorites?
For most of Monday night, the Falcons developed into quick media darlings. Twitter was alive with comments about their defense, intensity and the speed that everyone could see on the Atlanta side of the football. An unknown 12-2 team at the time who showed just how physical the NFC South can be on a national stage.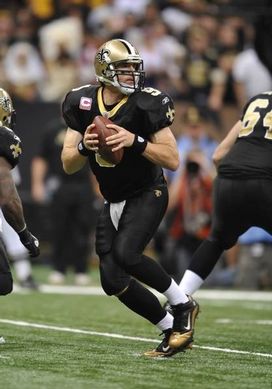 ICONBrees and the Saints made the fourth quarter plays in the Monday night win.
I can give the Falcons that. It isn't often that you see a defense attack Drew Brees and the Saints offense with that style. Six and seven-man pressures. Linebackers that could run down the crack toss and the edge runs of Reggie Bush. An aggressive, competitive secondary. And a front four rush that could win with power and technique. I was impressed.
But, when this game was on the line—a game with playoff atmosphere—Brees delivered. And the defense under Gregg Williams (that was undervalued throughout the night) continued to shut the door on Matt Ryan and the Falcons. That is the bottom line. The Saints—the defending champs—made more plays in the fourth quarter. It wasn't perfect, but when Christmas Day has come and gone, there is no such thing as "perfect football" in the NFL. Instead, it is time to make the necessary plays in the crucial situations of the game. That is all that matters. The competition and the playoff atmosphere takes over in these games—and that rolls right into January.
I loved that game last night—because it reminded us that post season football is right around the corner. I don't mind seeing players get into each other's faces, good hitting and defenders finishing off ball carriers. Every play matters. Take the guy out.
However, this game was more about New Orleans. We should expect Atlanta to take care of Carolina and grab that home field advantage for the playoffs with a 13-3 record. The Saints will start on the road—and continue on the road. But, this is a team that will come to play when the competition increases. Does that make them the favorite to run through the NFC next month? I can't say that, but I do see them as a great matchup for Philly, Chicago and Atlanta. A team that won't be an easy out on the playoff stage.
Follow me on Twitter: MattBowen41