June 23, 2011 -
Matt Bowen
Should we give rookies 'a pass' in 2011?
On Wednesday, the NFP's Jack Bechta broke down five changes we will see this season due to the lockout. And if you haven't given it a read, I suggest you check it out—because the topics are real.
And the one I want to hit on and discuss today is the 2011 rookie class. What expectations do we have for them this year in terms of production, playing time and actual impact on the season itself now that the lockout is into the summer months?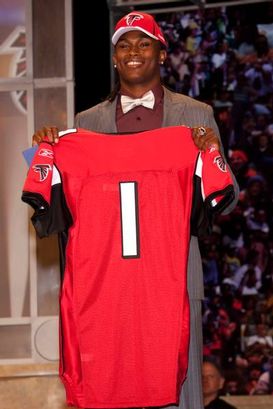 Like the rest of the rookie class, Julio Jones hasn't been able to develop under NFL coaching this offseason.
Bechta broke it down in pretty blunt terms, saying we should "give them a pass" for this year.
Make sense? I think so, because as we get closer to the Fourth of July holiday, it is evident that the entire offseason has been a complete bust. Yes, veterans will survive (and many of them have enjoyed the down time this spring and early summer). They will come to camp ready to compete and play ball. That is what professionals do.
But rookies? Forget technique and understanding tendencies of the NFL game for now. Most of them don't even know where to line up yet in their respective offensive and defensive schemes.
These player organized workouts that some of the rooks are attending? As I wrote before here at the NFP, I give these players credit for doing the best they can during this lockout. But these "practices" are just a shell of the real thing (OTAs, mini-camps) that include coaches, meetings, correction periods, etc. And those are a major part of the development that the offseason provides for rookies.
Instead, when training camp starts (hopefully on time), position coaches are going to have to work overtime. Early in the morning, at the lunch break, after each practice on the field and well past the team curfew at night just to get these rookies up to speed on film work.
Positions the lockout is going to impact? Pretty much the entire class, outside of maybe the defensive lineman that can get into a rotation on game days and the late round guys that cover kicks.
But QBs, WRs, O-Lineman, DBs, etc? Positions that you can't just walk into as rookies as see immediate results. Those jobs take time with an offseason intact to learn the system, practice your footwork and start to develop as a pro.
Honestly, I hope I am dead wrong, but I always go back to my own experiences when it comes to this game. And I was lost as a rookie—with an offseason.
Maybe those position coaches can get the right amount of work in during camp and use some practices as playbook install sessions, basically turning two-a-days into glorified walk-through periods to get their rookies on the same page as the vets.
Because if they don't how much of a real impact should we expect to see from Cam Newton, Jake Locker, Julio Jones and so on? Those names I just listed should be on the field come opening day in a regular league year.
According to Bechta, he is hearing from some of the NFL's brass that 2011 could turn out to be a developmental year for all rookies. And right now, I can't disagree with any of that.
You think it is time to cut a deal and get back to football? I do.
Follow me on Twitter: MattBowen41