August 09, 2011 -
Matt Bowen
Sign Bryant McKinnie? Too risky for me
Bryant McKinnie has talent. But after his agent sent out e-mails last night (trying to drum up some interest in his client), I am wondering if anyone is going to commit to the OT during camp.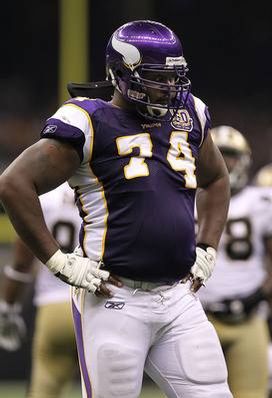 I would have some real concerns with signing McKinnie to a contract during training camp.
From my perspective, I am going to be very cautious investing in a player that showed up enormously out of shape and overweight for camp. That tells me as a coach or GM that this guy lacks "football character" and isn't accountable.
This entire offseason was a test for NFL players. No strength coach, conditioning program to follow during the lockout. Show up prepared for camp and treat the job like a true pro.
Didn't happen with McKinnie. He went the opposite direction.
There will be injuries throughout camp and the preseason (as we have already seen). Players go down and GMs start searching the streets for bodies. And McKinnie could be one of those names that pops up during a personnel meeting.
But here is the catch: if the OT is on your opening day roster, his salary is guaranteed for the entire season. That's how it works with vested veteran players. Doesn't matter what type of production you get at that point, because even if you cut him, that money is still going out.
Here's what I would do. Bring him in for a workout if there is an interest level in the building—but work him extremely hard. Get a feel for his conditioning level, where his technique is at, etc.
However, even if I think he could play a role on my squad, I still don't sign him until after Week 1 of the regular season. Too much risk involved there. Let's see if someone bites and gives him a shot during camp, but I don't trust him enough right now to offer him a deal.
Follow me on Twitter: MattBowen41