March 10, 2012 -
Matt Bowen
'Skins pay big to move up, but can you blame them?
The Redskins paid a premium value late last night to put themselves in a position to possibly draft QB Robert Griffin III. In a deal first reported by Jay Glazer of Fox Sports, the 'Skins traded their first (No.6 overall) and second round picks this year to the Rams along with two future first round selections (2013, 2014).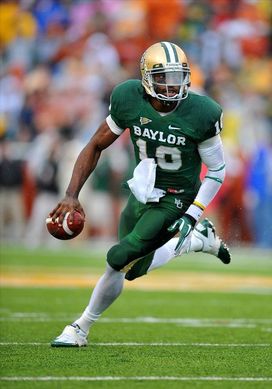 ICONThe Redskins are now in a position to draft Robert Griffin III next month.
Move up to No.2 with the opportunity to take Griffin off the board next month (with the assumption that Andrew Luck goes to the Colts with the first pick in the draft).
I can't sit here and try to argue that the 'Skins and owner Dan Snyder didn't overpay. We can all see that for ourselves. This club just mortgaged their future to move up four spots in the draft.
However, can we really blame them?
This franchise under Snyder is desperate at the position. And outside of making a play for free agent Peyton Manning, getting a deal done to target RGIII is the right move here.
I'm not an NFL scout, but I have seen enough of Griffin this past season to know that he has tremendous upside. And as I wrote last week, I would love to coach the former Baylor QB. With his unique skill set, there are endless possibilities from a play calling and game plan perspective.
Plus, with the Redskins and Mike Shanahan, the team can draft a QB they can develop. Think technique, mechanics, etc. That sells when you have the opportunity to work with young talent.
As I said above, there is no question the Redskins paid a steep price to get this deal done. However, you can't win in today's NFL without production from the QB position on a consistent basis. In this case, Snyder made a move to ensure they can draft a player to build around and win with in the future.
Follow me on Twitter: @MattBowen41