December 19, 2011 -
Matt Bowen
Steelers-49ers: Three things to watch tonight
Let's look ahead to the Steelers-49ers Monday night matchup out in San Francisco. Here are three things to watch in a game that carries playoff implications late in the season.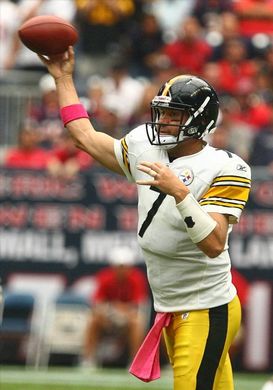 ICONHow will Roethlisberger's ankle injury impact his mobility in the pocket?
1. Roethlisberger's mobility: The Steelers' QB is expected to play tonight after suffering a high ankle sprain in the Week 14 win over the Browns. The question I have: how does this impact his mobility in the pocket? What makes Roethlisberger unique is that ability to extend plays, move outside rush lanes and allow his receivers to convert routes down the field and in the red zone. If the ankle limits him, look for the 49ers to send A and B gap pressure early. Exactly what you want to do vs. a QB that can't slide in the pocket.
2. Gore's production: I wouldn't expect any new install when it comes to the 49ers' run package. With RB Frank Gore, we will see the downhill power game (Power O, Counter OF, Lead, etc). However, the production has to be there to set up the play action route tree in the San Fran playbook and to prevent 3rd and 7-plus situations for QB Alex Smith. You don't want to put the QB in a situation where the Steelers can use their blitz packages (both zone and man) to bring pressure and sit on routes in the secondary. For the Niners it should be clear: win up front and run the ball to move the sticks.
3. Special Teams: I always look at the kicking game in a non-divisional matchup late in the season. Both of these clubs have top-tier returners in Ted Ginn and Antonio Brown that can flip the field if given the opportunity. Watch technique, tackling and coverage lanes tonight. Because if you don't breakdown, close the angle and wrap up vs. Ginn or Brown it is going to lead to field position and scoring opportunities.
Follow me on Twitter: @MattBowen41