November 07, 2010 -
Matt Bowen
Sunday post game notes: early kickoffs
Let's check out some quick postgame notes from the Week 9 early kickoffs...
More Favre: The Vikings' QB might have just saved Brad Childress' job. Look at these numbers: 36-47 for 446 yards with 2 TDs and 2 INTs. But, the comeback is what stands out.. Down by 14 in the 4th quarter, Favre played like a Pro Bowl QB, and the seam route to TE Visanthe Shiancoe was as big as it gets. His play surprised me—because I thought this team was done for good in the second half.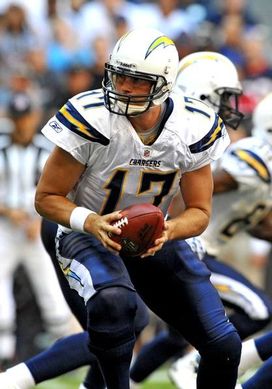 ICONRivers threw 4 TDs in the Chargers' win over the Texans.
Rivers: How good is Philip Rivers playing right now? Best in the league? Why not after another Sunday filling up the box score in the road win at Houston. 17-23, 295-yards, 4 TDs and a pick. And, he is doing it without Malcolm Floyd, Antonio Gates and even Vincent Jackson. The Chargers leading receiver today: Seyi Ajirotutu. 4 receptions for 111-yards and 2 TDs.
Peyton Hillis: You think the Broncos and Josh McDaniels would like to have Hillis back in Denver? The Browns RB shows power, gets down hill and can break tackles. Shredded the Patriots' defense for 184-yards and 2 TDs on 29 carries. Workhorse numbers. Plus, let's not forget rookie QB Colt McCoy: 14-19 for 174 yards—and zero INTs. Didn't expect the Browns to physically beat up the Pats.
Ravens: The type of defense we expect to see from Baltimore. Held the Dolphins to 73-yards rushing and forced three turnovers. Plus, when they get numbers like they did today from Joe Flacco (20-277-266-2TD) they look like a serious playoff team. 6-2 and on top of the AFC North.
Santonio Holmes: Basic 15-yard deep dig route in OT that turns into a 52-yard gain. Detroit is in man coverage, and with the CB playing with outside leverage, the FS has to come downhill and make the tackle. Doesn't happen, Holmes gets up field and the Jets have a chip shot FG to win it. That's how quickly can you can lose a game on Sunday in OT.
Bears survive: Two 4th quarter picks. That is what should stand out from the Bears win over the Bills in Toronto. There will be some talk about Mike Martz's balanced game plan and the play of QB Jay Cutler when he got out of the pocket, but the turnovers forced by Tim Jennings and Chris Harris were the difference when the game mattered. That's Bears football under Lovie Smith.
The Saints' D: Going back to last Sunday's win over the Steelers, and today in Carolina, this defense is starting to look like that championship unit again. Forced the Panthers to go through three quarterbacks, made plays on the ball and limited this Carolina offense to 195-total yards and only 1 of 12 on third downs. Playing good defense under Gregg Williams when it matters—in November.
Quick hits...
- Arian Foster continues to impress me. Don't usually see a player that runs tall--and is a long stridder--cut as easily as he does. The Texans' RB is as real as they come.
- Another Stafford injury. Detroit is playing good football, but they need their QB to stay on the field if they want to put wins together.
- Is this the beginning of a Chargers' run under Norv Turner? Still hanging around with a 4-5 record.
Follow me on Twitter: MattBowen41