November 21, 2010 -
Matt Bowen
Sunday post game notes: early kickoffs
Five things that stood out from the early kickoffs…
1. Sanchez's final drive: Big time drive by the Jets' QB with no timeouts to work with. Hits WR Braylon Edwards on the 9 route (4 verticals) vs. 2-Man with the FS sitting too far inside, and then comes back and makes the throw to Santonio Holmes to win it. The route: a classic red zone pick-play. Align in a slot look with No.1 on the smash route and No. 2 (Holmes) on a wheel to the corner of the end zone. Versus press-man coverage it is almost unstoppable. Big comeback win for the Jets and what looks like a season ending loss for Gary Kubiak's Texans.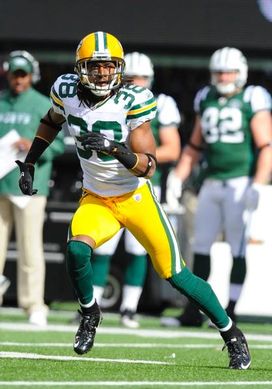 ICONThe Packers' Tramon Williams.
2. Packers' defense: Green Bay QB Aaron Rodgers (22-31-301-4TD) played at an elite level today (and we will get to that tomorrow), but let's spend a minute talking about two key defensive plays. The first, the Woodson strip on Toby Gerhart. When you are in a "trail" position as a defender it is the ideal time to punch the ball out—because the running back doesn't cover the tip and hold the ball close to his body. The second, the Tramon Williams INT. This was straight coaching tape when we talk about technique. Sit in an off-man position, flat foot read (no backpedal) through the 3-step and drive downhill on the slant. You can't do it better than that. Williams continues to look like a player that should head to Hawaii.
3. Mike Wallace: Has to be the most underappreciated No.1 WR in the NFL—but this guy can play. Caught 3 passes for 116-yards and a TD. That is good for over 38-yards per catch. But, go back to the TD. Catches a short, underneath crosser—something we see in every NFL playbook. Turns up field and splits the Raiders' defense. A 5-yard route that turns into a 52-yard TD. That is the type of impact he can have.
4. McNabb: The entire Redskins' team—including Mike Shanahan—has to be mentioned after the loss to Philly last week, but I want to talk about McNabb. Played big on third downs, threw for 376-yards and worked with a lineup that was patched together. However, he used his playmakers on offense: Santana Moss and Chris Cooley. 6 receptions, 106-yards for Moss and 7 receptions, 91-yards for Cooley. The 'Skins QB showed a ton of leadership today.
5. Cincy's defense: There are multiple issues that we can attach to the Bengals 2-8 record, but this defense under Mike Zimmer is a shell of what we saw in 2009. Did force 2 INTs against the Bills' Ryan Fitzpatrick, but the 49 points and the 449 total yards they gave up to Buffalo—at home—is bad football. We can throw the Vikings into the mix as the most disappointing team of 2010, but my vote goes to the Bengals.
Check back to the NFP for my notes following the late kickoffs.
Follow me on Twitter: MattBowen41