November 14, 2010 -
Matt Bowen
Sunday post game notes: early kickoffs
Five things that stood out from the early kickoffs
1. Santonio Holmes: Second straight week the Jets' WR made a big play—on a simple route. Last week: the deep dig that set up the winning FG in OT. Today: the 3-step slant vs. Cover 2 look. With the CB sitting outside, Holmes has a free release to the inside and has to make one player miss—the safety. Another big win for the 7-2 Jets and another case of a WR making a play on a basic route in every NFL playbook.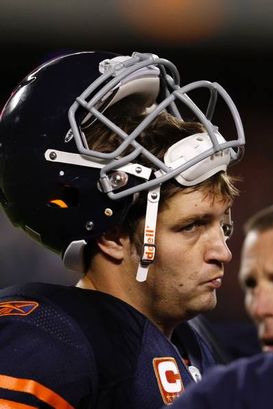 ICONCutler had time to throw against a Vikings' front four that didn't produce.
2. Cutler vs. the Vikings: The numbers for the Bears' QB: 22-35 for 237, 3 TDs and 2 INTs. However, what stands from the Bears' 27-13 win over the Vikings is Cutler's ability to step up, slide and escape any sort of pressure in the pocket. We should give some credit to that Bears' O-Line that has been playing well below average all season, but what about that Vikings' front four. It was too easy for Cutler today. And if you want to drop seven and only rush four, there has to be pressure up front. Only one-sack for the Vikings today.
3. The Hail Mary: Talk about a way to lose a ball game for the Texans. Could it have been prevented? Yes, and it comes down to basic coaching. DBs in this league are taught to knock the ball down—like spiking a volleyball—instead of hitting it back towards the goal line like we saw today. Because when that happens, it is anyone's ball. Offenses will always use a "trailer" to run behind the play fort this exact reason. The Jags' Mike Thomas makes a "basket catch" and Jacksonville goes to 5-4 on a play that never should have happened if you go back to training camp and the "spike drill."
4. No Moss: Where was the impact from new Titans WR Randy Moss? Outside of a P.I. penalty he drew earlier (and a late game 7-route vs. what we can call prevent coverage from the Dolphins) Moss was a complete non-factor working against Dolphins' CB Vonte Davis. Interested to see if he becomes more of a factor for this team moving forward—the same team that has now lost two straight.
5. Bengals turnovers: Carson Palmer throws three picks, and the Cincinnati offense turns the ball over five times on the road. On a day when your defense comes to play—and limits Peyton manning and the Colts offense—you need solid play out of your quarterback. Palmer continues his inconsistent play and this Bengals team is now sitting at 2-7. Really bad football.
Quick hits…
-Like seeing the Dolphins bring back the wildcat on offense. No one does it better than Ronnie Brown when he is in the shotgun.
- Colt McCoy is for real. Despite the loss, how many rookie QBs drive the ball down the field and challenge Darrelle Revis in a 2-minute situation to send the game into OT?
- A Bills' winner. Wasn't pretty and they almost let the Lions come back and send this game to OT, but winning on the 2-point play moves Buffalo to 1-8.
Follow me on Twitter: MattBowen41