November 14, 2010 -
Matt Bowen
Sunday post game notes: late kickoffs
Five things that stood out from the late afternoon kickoffs…
Click here to read my notes from the Week 10 early kickoffs.
1. Cowboys' big plays: Have to wonder where this explosive offense was in Dallas. Two plays that stand out: the slip screen to Felix Jones out the backfield that went for a 70-yard TD and the WR missile (or "bubble") screen that Dez Bryant took down the field for an explosive gain. We are talking about basic concepts here that turn into big plays when you get the ball in the hands of your playmakers. This Cowboys offense looked more athletic than the Giants defense all afternoon long.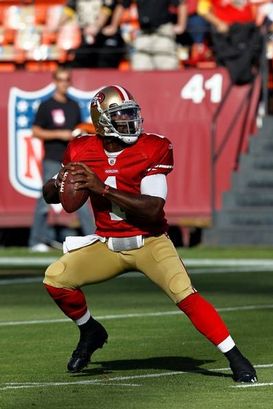 ICONSmith threw for 356-yards in the 49ers OT win over the Rams.
2. Troy Smith: Not to take anything away from Rams' rookie QB Sam Bradford (who played with poise and confidence again), but the Niners' young QB might have just won himself the No.1 job in San Fran for the rest of the season. Overcomes three TDs erased because of penalties and leeads the scoring drive at the end of regulation--and in OT--to win it for the 49ers. Finishes 17-28 for 356-yards and a TD.
3. Broncos' respond: The numbers from Kyle Orton should stand out (22-34-296-4TD). But when I look at this game the play of the Denver O-Line and the defensive front seven is impressive. Go back to the last month for the Broncos. They were soft at the point of attack, couldn't get off blocks on defense and were outright physically beaten against teams like Baltimore and Oakland. However, they run for 153-yards as an offense and limit a very good K.C. backfield to 51-yards on 22 carries (Jamal Charles: 14-41). The big numbers in the passing game sells tickets, but the up front play wins on Sundays.
4. More Mike Williams: The Seattle WR again posted No.1 numbers: 11 receptions for 145-yards. I have talked about him before, because he does look like a legit No.1 option outside the numbers. Good size, strong at the line of scrimmage and great body control once the ball is in the air. Now, just have to see the production in the red zone for Seattle.
5. The NFC West: A toss-up after today. With the OT win, we have to include the Niners is the playoff discussion out west. I still like this Rams team with Bradford, and we can't count out the Seahawks who hold the top spot at 5-4. In my opinion, it will come down to QB play. That should favor Seattle, with a veteran in Hasselbeck, but I wouldn't put any money down on that. This thing is a long ways from being decided. Good football to come in the NFC West.
Check back to the NFP tomorrow morning for my Week 10 "winners" and "losers."
Follow me on Twitter: MattBowen41